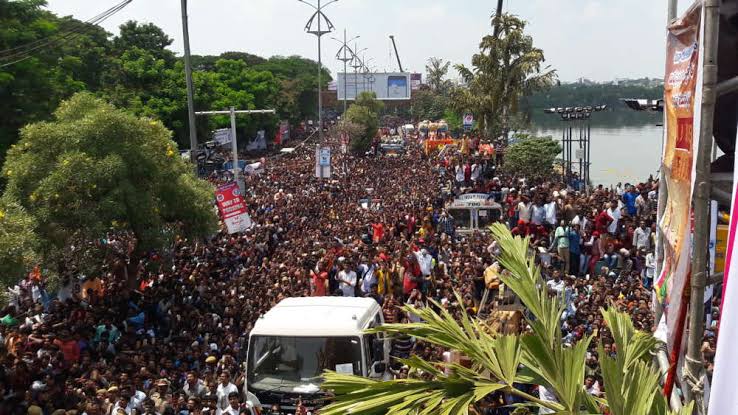 Hyderabad: Additional Commissioner of Police, Traffic Hyderabad city Anil Kumar, IPS, reviewed the Bandhobusth arrangements  for forthcoming Ganesh Chaturdhi and Muharrum with all the officers of Traffic Branch  and  instructed the officers to involve themselves and perform the Bandhobusth without causing any hurdles to the movement of Ganesh Idols.
Addl. CP Traffic, Hyderabad while reviewing the Bandhobusth Arrangement mentioned that "There is every possibility of increasing of Idols in Hyderabad city. 
Keep in touch with local police and collect the information well in advance about the installation and routes of immersion.  All officers should personally visit the route and check whether there are obstructions in the route for free passage of vehicles carrying idols.  Proper Bandhobusth should be made in the main and tributary routes by making one responsible officer as in-charge".
Further Addl. CP, Traffic reviewed every PS's Bandhobust schemes and assigned specific duties to specific officers.  Men of all ranks should be involved from the beginning of Preparation of Bandhobusth schemes.  Addl. CP traffic assured that there should not be any shortage of logistics and requirement of all PS's will be fulfilled.
 Addl. CP, Traffic specifically reviewed the Traffic Arrangements made at the venue of "Khairathabad Bada Ganesh".  He instructed the Traffic Officers that there should not be any inconvenience to the visitors. 
He assured that one Special Platoon of Reserved Force would be deployed at the venue to assist Traffic Police Hyderabad City, in his closing remarks, stated that the Bandhobusth arrangements will be reviewed on day to day basis and should be incident free.
Subscribe us on