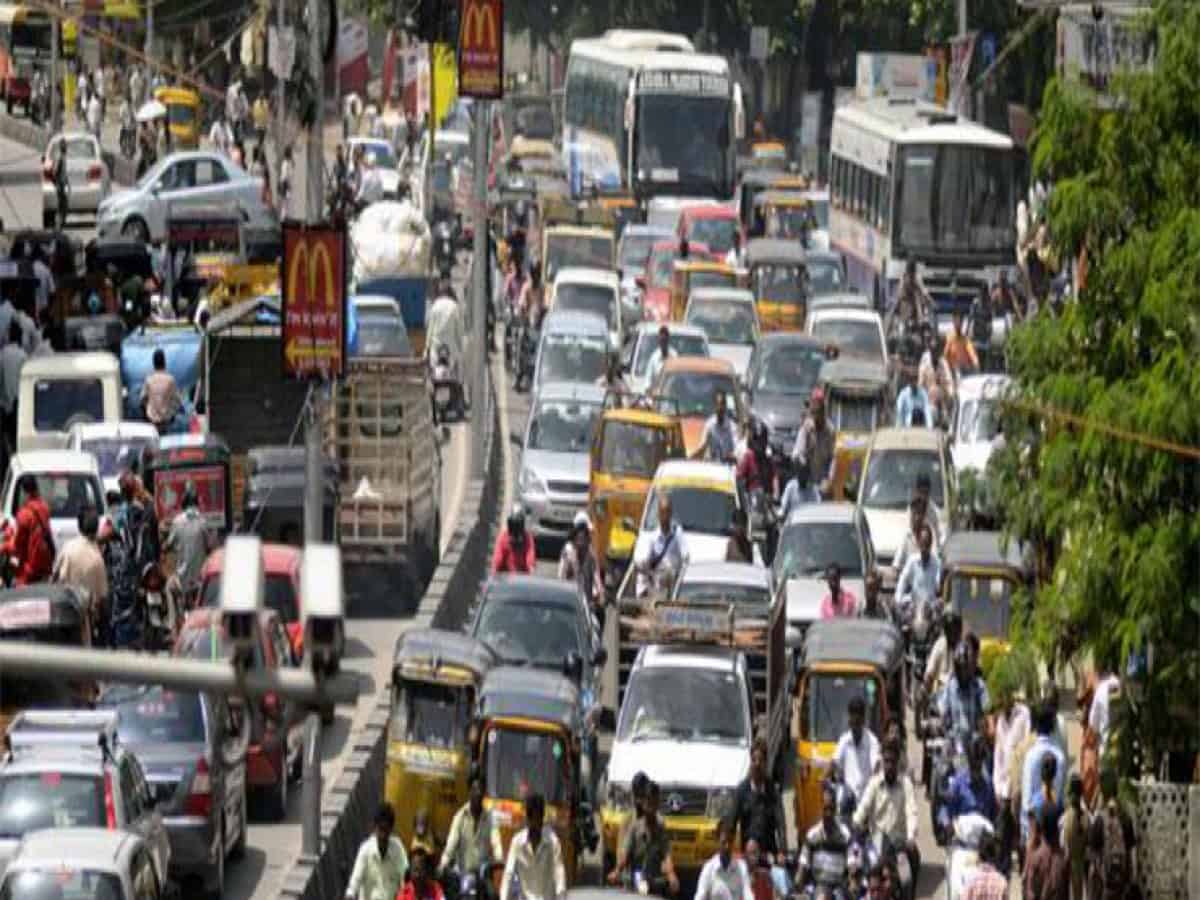 Hyderabad: A traffic advisory has been issued by Hyderabad police prior to Telangana chief minister K Chandrasekhar Rao's Christmas feast on December 21, at L.B. Stadium.
On Tuesday, traffic restrictions and diversions will be in effect from 5 p.m., until 10 p.m. A full list of traffic diversions on several routes has been released by Hyderabad ACP traffic police.
Following are the traffic diversions in Hyderabad
Traffic will be directed away from BJR Statue and towards Nampally and Chapel Road at AR Petrol Pump Junction.
Traffic from Abids will not be permitted to go to the BJR Statue and will be redirected to Chapel Road through SBI Gunfoundry.
Traffic from the Old MLA quarters will be rerouted to Liberty through Basheerbagh Junction.
Following are the entrance and parking locations for the invitees
Guests with gold card permits (A-1 Block) are asked to alight at 'A' gate, which is located across from the KLK (Khan Lateef Khan) building, and park their cars at Alia model school, state council of educational research and training (SCERT), and Aliya College.
Guests with green card permits (A-2 Block) should exit via 'D' gate, which is located next to Alia model school and near the BJR Statue, and park their vehicles at Aliya College, Mahaboob college, Alia model school, and SCERT.
Guests with blue card permits (B-Block) should exit through the 'G' gate, which is directly across from Ayakar Bhavan and enter through inner gate No. 15, and park their vehicles in the Public Garden.
Guests with pink card passes (C-Block) should alight at the 'F, F1' Gates near the BJR Statue, enter through inner gates 6 and 8 and park their vehicles on Nizam College premises.
The press and media people are requested to gather at 'D' gate, which is opposite to SCERT office, near BJR Statue, entry through sports authority of Telangana State (SATS) gate and park their vehicles inside SCERT Office parking premises.
The additional commissioner of Hyderabad Traffic Police has requested all the guests to co-operate with traffic police in parking their vehicles at the above parking slots designated for them. He also requested the citizens to take alternate routes to reach their destinations and avoid the above routes during the specified timings and co-operate with the traffic police.
Subscribe us on