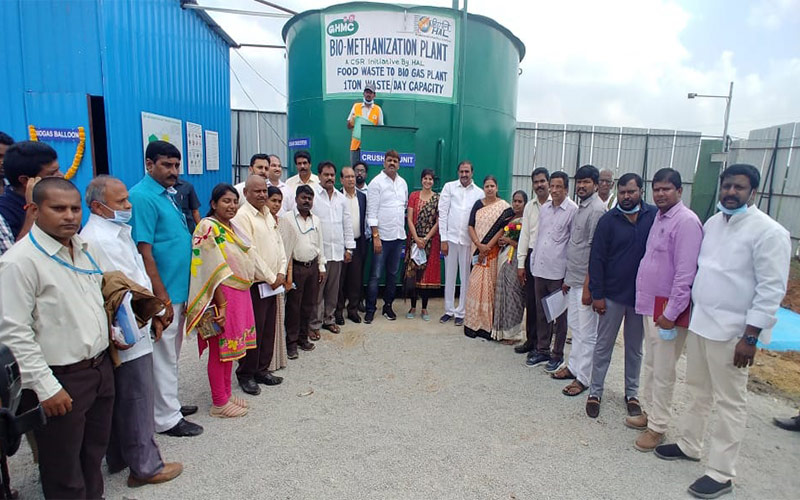 Hyderabad: As part of CSR (Corporate Social Responsibility) Hindustan Aeronautics Limited came forward to fund a project to convert the wet waste to methane gas. HAL has released a fund of Rs.24.76 Lakhs for construction of Hyderabad's First Bio Methanization Plant at Deepthi Sri Nagar Transfer station in Chanda Nagar circle 21, Serilingampally zone said GHMC Mayor Bonthu Rammohan Rao.
On Friday, GHMC Mayor Dr. Bonthu Rammohan, Arkepudi Gandhi, MLA of Serillingampally and B. Navta Reddy Corporator of Chandanagar ward and Meka Ramesh corporator of Miyapur and Rajeev Kumar, GM HAL, and Md Hafeez along with Harichandana Dasari, IAS zonal Commissioner inaugurated Hyderabad's first bio Methanization plant at Deepthi Sri Nagar transfer station in Chanda Nagar circle 21 Serilingampally Zone.
Within 2 years the Garbage collection capacity of GHMC increased from 3500 MT to 5500 MT per day and introduced Driver Cum Owner scheme which helped to convert 2500+ unorganized rag pickers to Formal Garbage collection Auto Drivers and Helpers said the Mayor.
Further Mayor informed that for the installation of plant Deepthi Sri Nagar is choosing as there is a constant inflow of segregated waste and dedicated 20-30 MT of wet waste from Gated communities and Hotels in Serilingampally zone and the thought of converting this wet waste at Deepthi Sri Nagar will cut shot the transportation and processing charges at Jawahar Nagar Dumping yard.
1MT CAPACITY OF CONVERTING WET WASTE
Adding that he told this plant has a capacity of converting 1 MT of wet waste into biogas of 80 Cubic Meter per day and this is raw gas and can be used at it a source for 16 hours of continuous flame which can be utilized for running food and tea stall at the transfer station.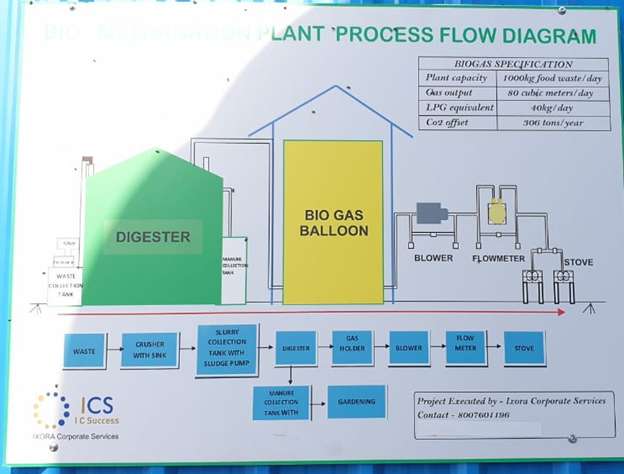 Further the project of generating compressed gas by using Converter is under consideration and this may boost up the utilization of gas by garbage autos will reduce the utilization of Diesel. And this plant capacity can be further boosted to 10 MT which can effectively reduce the cost of transportation to GHMC. The wastage of this plant is further converted to compost by anaerobic compost method and this will reduce the cost of plant maintenance to the GHMC.
MANY MORE PLANTS TO COME UP IN HYDERABAD
This many more plants to come in GHMC jurisdiction and involvement of bulk generators and gated communities to install such decentralized compost and gas plants at their vicinity will boost a lot to reduce the transportation cost barrier to GHMC and the same fund may utilized for developmental activities.
Finally, this is the beginning of a concentrated effort by GHMC to reduce the garbage at source and produce value out of waste. We thank HAL for their valuable CSR contribution towards Swachh Bharath and Swachh Hyderabad.
Authored by Mohammed Hussain, mohammedhussain.reporter@gmail.com Twitter: @writetohussain
Subscribe us on