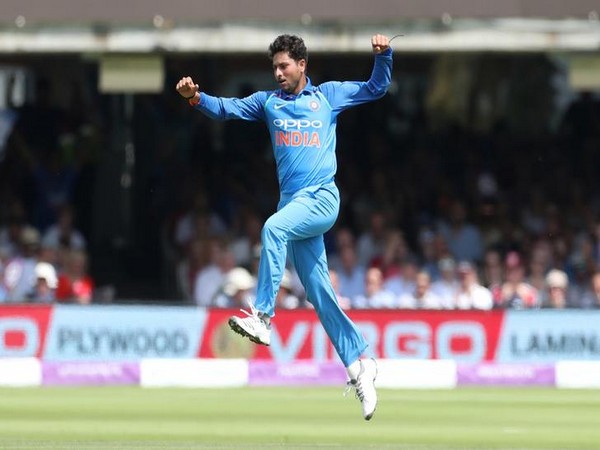 Hyderabad: Kuldeep Yadav and Yuzvendra Chahal have developed a sensational spinning duo among themselves enabling the Indian team to be consistent in the middle overs, picking up wickets at regular intervals and drying up the runs for the opponents.
"When you play together regularly, you learn from your partner. So I have learnt a lot from him. Whenever we play together, we try and improve together," ESPN Cricinfo quoted Kuldeep as saying.
"Also in general, since my younger days, my coach made me a bowl from the centre wicket and challenged the batsmen to hit sixes, so the fear disappeared right from the early stages of my career. You cannot become a good spinner if you do not overcome that fear and just think wickets. That is what Chahal and I have done. The middle overs are important in ODIs – if you do not attack, teams will get 320, so the focus is on picking up wickets in the middle overs," Kuldeep was quoted as saying.
Kuldeep who is slowly adapting to the change of playing in both white-ball and red-ball format says the change in format was a difficult transition at first.
"That it is very difficult to switch from white-ball cricket to red-ball cricket. If you keep playing red-ball cricket, it is easy to adjust as a spinner, but I am regularly playing with the white ball, so when I got the chance [at Lord's], I was not prepared enough to tackle everything. For me, red-ball cricket is the biggest challenge. Everyone loves Test cricket and I'm no different" he said.
The 24-year-old spinner has said that since the Lord's Test debacle he went back to his childhood club and practised with his coach which enabled him to adjust and record better performances in the Test format.
"I had time to go back to Kanpur and work with my coach. The Rovers Club, where I have practised since childhood, gives me positive vibes. It is where I am myself, with a lot of freedom to just do my thing quietly without having so many cameras trying to pick what you are trying. It took me seven days to actually get over my Lord's performance and bounce back. I was in England for one more game after the Lord's Test. The team management sent me home as they felt I would get game time before the West Indies series by playing against Australia A. I made plans, which I executed in the unofficial Tests against Australia A. In the first game I went okay, I was bowling too full, but in the second game, I got a five-for. That settled me down".
The spinner also said that there were some minor changes that spinning legend Shane Warne asked him to make and that has helped him improve his bowling armoury.
"He looked at one replay on commentary and suggested minor changes with my bowling arm. He pointed to my knees bending at the time of release, and body alignment. He felt if it is straight, I would be able to use my core better and be able to flight the ball more".
"He also spoke to me about the kind of fields you need to set in Australia. The lengths you need to vary for your stock ball, googly and flipper. I was like, "Wow, this man is like an encyclopaedia." He demonstrated by bowling left-handed. Even now, from time to time he sends me texts and I remain in touch with him on WhatsApp. It has been great to have his support".
Kuldeep would be hoping to keep on performing in the series against Australia to cement his place in the playing XI in the World Cup squad.
India takes on Australia in the first ODI of the five-match series today.
[source_without_link]ANI[/source_without_link]
Subscribe us on