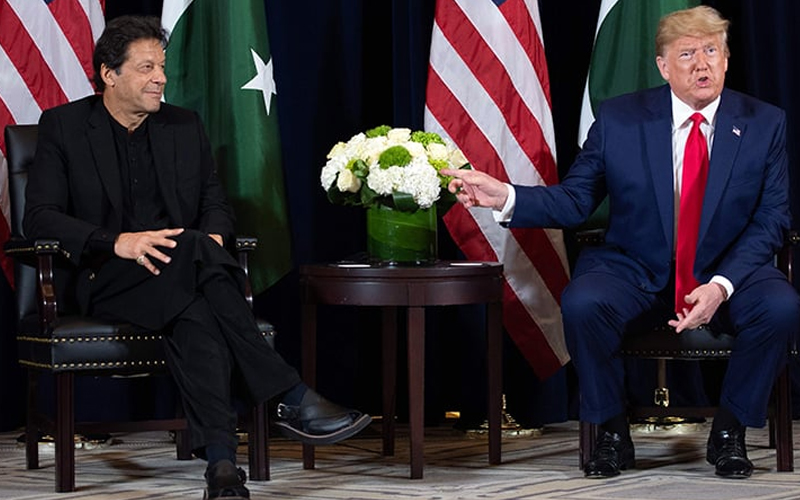 United Nations: Pakistan Prime Minister Imran Khan has said that US President Donald Trump and Saudi Arabian Crown Prince Mohammad bin Salman have asked him to be an intermediary with Iran.
"President Trump asked me that if we could de-escalate the situation (with Iran) and maybe come up with another deal," he told reporters here on Tuesday.
"I immediately spoke to President (Hassan) Rouhani yesterday (Monday), after the meeting with President Trump. But right now I can't anything more than this except that we are trying and mediating."
He added that the Crown Prince has "also asked me to talk to the Iranian President" about de-escalating the situation.
Already, because of Pakistan's patronage of the Taliban, Khan is being seen as an influential player in Trump's attempts to make a deal with the militant group so he could bring back the American troops stationed in Afghanistan as he had pledged during his election campaign.
A role with Iran could add to Khan's influence with Trump.
A crisis has been brewing in the Gulf region after Trump pulled out of the 2015 multilateral de-nuclearisation deal with Iran, saying that it was inadequate and Tehran was not adhering to the agreement.
Trump hit Tehran with a series of sanctions and banned its oil exports.
As tensions mounted, Iran brought down a US military drone in June.
Trump stopped a retaliatory US missile attack on Iran at the last moment.
Two oil tankers were attacked in the Gulf of Oman, also in June, and Saudi oil facilities were hit by drone attacks on September 14.
Although the Iran-backed Houthi rebels in Yemen have claimed responsibility for the attacks on Saudi facilities, the US has blamed Iran.
Because of Trump's – and his base's – opposition to foreign military entanglements, the US feels constrained in retaliating against Iran and Tehran feels that it could get away with provoking the US or its allies.
French President Emmanuel Macron is also on a mission to end the US-Iran standoff. "France is trying to put together proposals to avoid an escalation," he said.
He is also trying to get Trump and Rouhani, who are both in New York for the General Assembly, to meet.
Rouhani has so far refused to consider such a meeting unless the US sanctions are lifted.
About Afghanistan, Khan said: "We are trying now to get the talks restarted between the Taliban and the Americans."
Trump broke off the talks when a US military personnel was killed in a Taliban attack on September 5.
The Taliban have refused to talk directly to the Afghanistan government.
Khan said that if the deal between the Taliban and the US is achieved, he will try to get the Taliban to speak to the Afghanistan government.
Subscribe us on