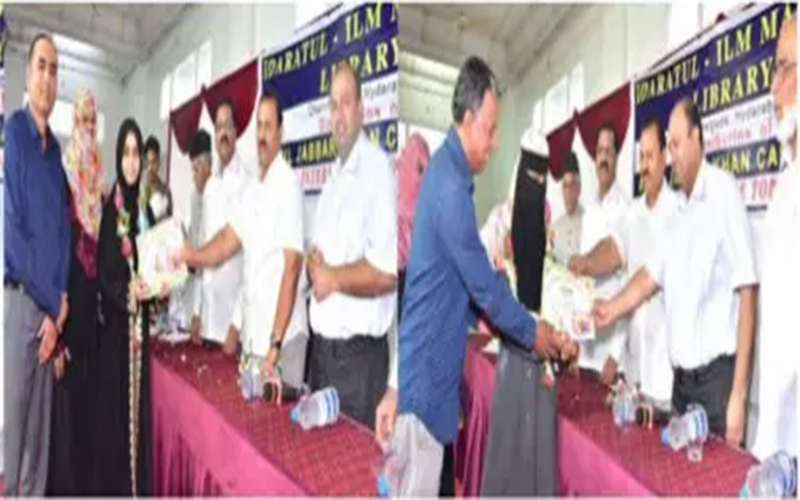 Hyderabad: A grand function was organized by Idaratul Ilm, Mehdavia Library to commemorate the 10th Abdul Jabbar Khan Cash Award Ceremony. Mr. Amer Ali Khan, News Editor of Siasat Urdu Daily, Mr. Venugopal Chari, Special Representative of Govt. of TS in Delhi and Mr. Devi Prasad, Chairman, TS Beverages Corporation were the Guests of honour.
Mr. Syed Husain Meraan Khundmiri, Secretary of the association presented annual report and Mr. Sadiq Mohammed Khan also addressed the gathering.
Addressing the gathering, Mr. Amer Ali Khan told that the step taken by Mr. Abdul Jabbar Khan in propagating education among the Muslim community is laudable. He expressed delight that more than 17 applications of meritorious candidates have been received for admission into this institution out of which four girls studying in intermediate class had secured 976, 963 and 953 marks. Mr. Amer Ali Khan awarded Rs. 1000 each for these four girls.
Citing the example of Minorities Residential Schools started by Government of TS, Mr. Amer Ali Khan told that if Muslim managed schools also follow this scheme, the future of Muslim community will become bright.
Mr. Amer Ali Khan applauded the efforts of an IPS officer, Mr. Praveen Kumar who abandoned his job and devoting his full time to shoulder the responsibilities of SCs, STs residential schools.
He asked the students to inculcate competitive spirit in their academic career following the example of persons like Abdul Jabbar Khan.
Mr. Veenugopal Chari and Mr. Devi Prasad applauded the efforts of Mr. Abdul Jabbar Khan. Cash awards were given to the meritorious students of the school who secured good ranks at SSC examination. Ms. Saraswati, teacher of MS College, Malakpet was also given a cash award of Rs. 5000.
On this occasion, Mr. Abdul Jabbar Khan announced a cash award of Re. 1 lakh for a state topper Mehdavi Student.
[source_without_link]Siasat News[/source_without_link]
Subscribe us on