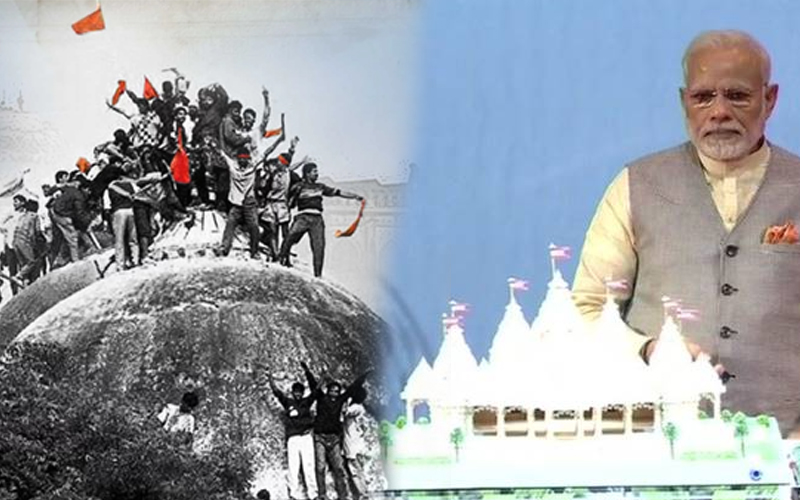 ABU DHABI: The United Arab Emirates allocates an additional 13 acres of land for the parking facilities for the the first traditional Hindu stone temple in the Middle East.
According to the Khaleej Times report, the Bochasanwasi Shri Akshar Purushottam Swaminarayan Sanstha (BAPS) Hindu temple will be constructed on 13.5 acres of land, donated by His Highness Sheikh Mohammed bin Zayed Al Nahyan, Crown Prince of Abu Dhabi and Deputy Supreme Commander of the UAE Armed Forces.
Also, an additional 10 acres for a period of four years has identified by the government of Abu Dhabi to stage pre-construction activities such as storage of building materials.
On Saturday, speaking at the Consulate General of India premises to members of the Indian community, principal in-charge of the construction of the Hindu mandir Pujya Brahmaviharidas announced that 'shilanyas' ceremony or (foundation stone laying ceremony) will take place on April 13. Mahant Swami Maharaj, the spiritual head of BAPS will be presiding the event.
[also_read url="https://www.siasat.com/news/truth-behind-ram-mandir-agitation-1462612/"]The truth behind Ram mandir agitation[/also_read]
Back in India, the Ram Janmabhoomi-Babri Masjid title dispute case since 1992 is a political and socio-religious debate concerning which religious group ought to possess the land.
The 16th century Babri Masjid built during Mughal rule in city of Ayodhya was demolished by 150,000-strong crowd of Hindus believing it to be the birthplace of the lord Rama. It was one of the largest mosques in the Uttar Pradesh state.
It is worth mentioning that despite being a Muslim state, the UAE respects all religions. The UAE, a federation of seven emirates, is home to almost 3 million Indian expatriate workers and constitute nearly 30 percent of the population.
Subscribe us on