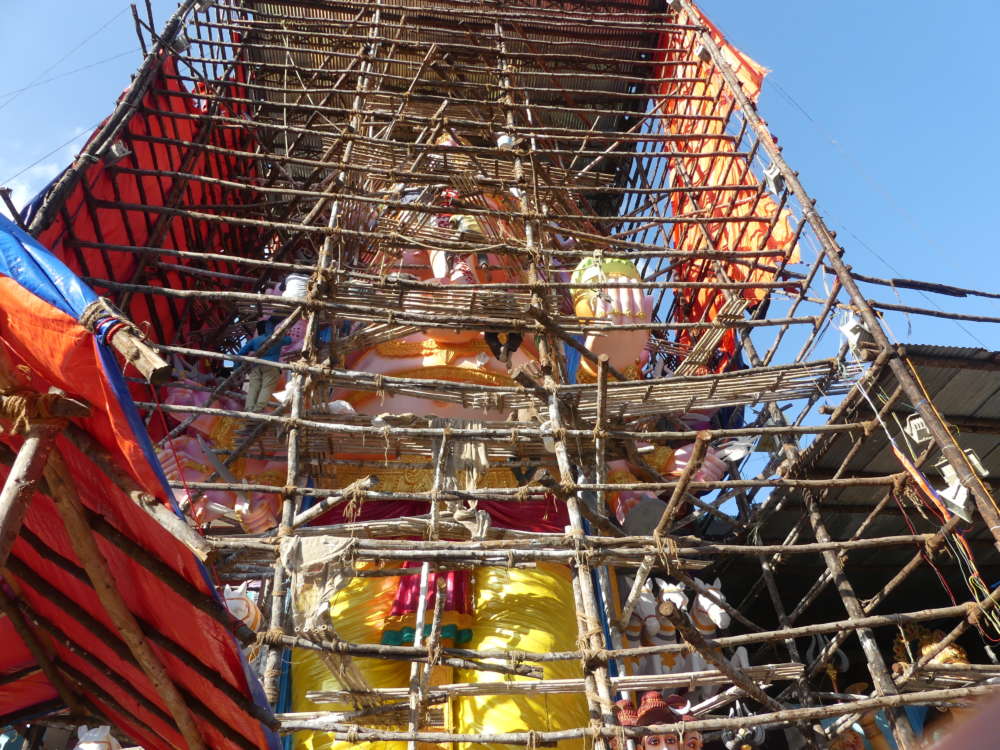 Hyderabad: The much-talked-about giant Khairatabad Ganapathi idol installed at Khairatabad in different shapes and sizes every year, The Khairatabad Ganesh Utsav committee members says that as earlier decided, "This year idol of Khairatabad is standing for 61-feet tall and face of the idol is like sun, with 12 heads, 24 hands and with seven horses in Suryudu Avatar.
The Ganesh immersion will take place on 12 September in the morning at Hussain Sagar lake.
Preparation of Khairatabad Ganesh
Chief sculptor C Rajendran who has been associated with the Khairtabad Ganesh Utsav Committee since 1976.
Speaking to Siasat.com he said, "The sketch has been prepared by more than 150 artisans from Orissa, Kolkata and other states across the country," adding to the same he told that the idol is adorned with 12 serpents and riding a chariot with seven horses and other various idols of 16 feet will be placed around the Ganesh in a 65 feet high shed."
Almost works of the pandal have been completed the idol has been placed at Khairatabad. Final touch up like coloring part would be completed by Wednesday, which will give darshan to devotees as Sri Dwadashaditya Maha Ganapathi on Bhadrapada Shudda Chavithi (Vinayaka Chathurthi festival) on September 2 this year.
He shared that he was also a part of idol making when the 14-foot Ganesh was made, and over the years the size and height have increased. The Ganesh Utsav Committee has been ideating and coming out with new designs, and we rope in artists from various states, including Maharashtra, Tamil Nadu, and Bihar, every year."
Rajkumar, Secretary of Ganesh Ustav Committee said, "The works of the idol started on May 15, the preparation is being done from 120 days and this year the theme is Dwatha Adhitya Maha Ganapathi."
The height of the idol has been reduced owing to logistic reasons, as it was becoming difficult to transport the idol for immersion. Last year, the size of the idol was 55 feet, and the theme was Sri Saptha Mukha Ganesh.
Subscribe us on