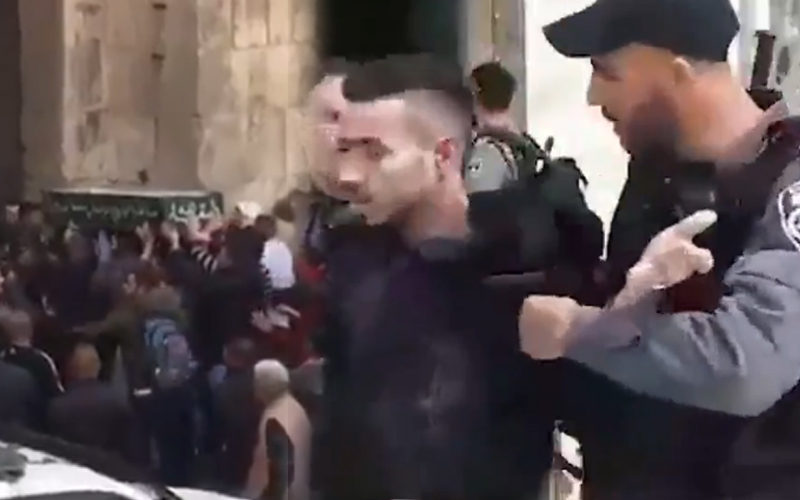 JERUSALEM: A number of Muslim worshippers on Tuesday were assaulted and harassed by Israeli soldiers at the Al-Aqsa Mosque compound.
Using the pretext of a fire at their post as the excuse, the Israeli forces attacked with batons dozens of Palestinian worshippers and evacuated the compound.
Fire at building at al-Aqsa close to the Dome of the Rock used by Israel as an Occupation police post. Israel has completely shut al-Aqsa pic.twitter.com/i4EEOjEHrt

— Masjid al Aqsa (@firstqiblah) March 12, 2019
As Palestinians and other worshipers arrived for the evening prayer, the baton-wielding police violently and aggressively pushed them away from the main gate, the Lion's Gate (Bab al-Asbat), said residents who witnessed the brutality.
[also_read url="https://www.siasat.com/news/al-aqsa-palestinians-perform-friday-zuhr-bab-al-rahma-first-time-2003-1470563/"]Al-Aqsa: Palestinians perform Friday Zuhr at 'Bab al-Rahma' for first time since 2003[/also_read]
"Dozens of Israeli soldiers stormed Al-Aqsa compound and assaulted a number of religious figures," Firas Al Dibs, a spokesman for the Jerusalem Islamic Waqf, a Jordan-run organization responsible for overseeing the city's Islamic sites, said in a statement.
watch IOF police brutally assaulted Palestinian worshippers including women in Alaqsa Mosque today
Via Hadeeth Alyoum #Palestine #wakeuppalestinians #crimesofisrael pic.twitter.com/CnJWxtdFeY

— Amin jarrar (@AminJarrar1) March 12, 2019
https://twitter.com/PALESTINO_Pal/status/1105446336168689665
As per reports, a A funeral procession entering Al-Aqsa mosque compound was barred and was attacked by Israeli police.
https://twitter.com/JIC_PAL/status/1105525255689461760
The compound is the third-holiest site in Islam and a focus of Palestinian aspirations for statehood.
Recent weeks have seen scuffles over a side building at the Bab al-Rahma gate, also known as the Golden Gate.
The closer of Bab al-Asbat means all gates to the holy site were closed, restricting Palestinian Muslims' freedom of worship.
Noteworthy, Bab al-Asbat and Bab al-Rhama prayer area was closed by Israeli authorities 16 years ago, and was re-opened three weeks ago by Palestinians.
Subscribe us on