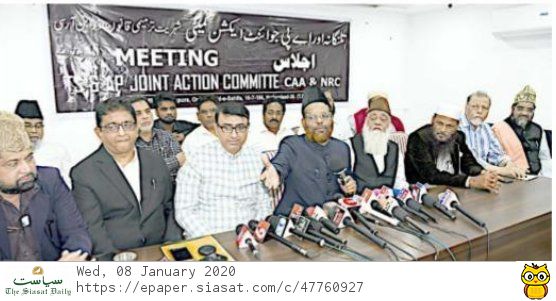 Hyderabad: The Joint Action Committee formed against CAA and NRC has announced to intensify stir against the draconian laws. It strongly condemned the FIRs filed against the protestors in various police stations.
The Joint Action Committee expressed its wish to meet Telangana Chief Minister K Chandrasekhar Rao. A letter has been sent to the chief minister seeking an appointment within two days. They have demanded that the CM clarify his stand on CAA-NRC-NPR.
The JAC warned that if the CM doesn't oppose the black laws, TRS will be at loss in the elections. They urged the chief minister to clear his stand in a press conference, not in a closed room.
JAC convener Mr Mushtaq Malik said that the million March taken out on January 4 was quite peaceful still police booked cases against the participants. He likened the police commissioner of Hyderabad to UP CM Yogi Adityanath who took personal revenge with the protestors.
JAC convener announced Save Constitution Day on January 25. He said the movement will continue until the central government withdraws CAA and NRC. Announcing the long term programme, the JAC convener Mr Mushtaq Malik said that the JAC members will soon begin door-to-door campaign in Telangana for creating awareness.
President Vehdat Islami Maulana Mohammed Naseeruddin, Mohammed Asif Umri, Aleem Khan Falki, Abdus Sattar Mujahid of All India Muslim League and High Court advocate Masood and others were present on the occasion.
Subscribe us on