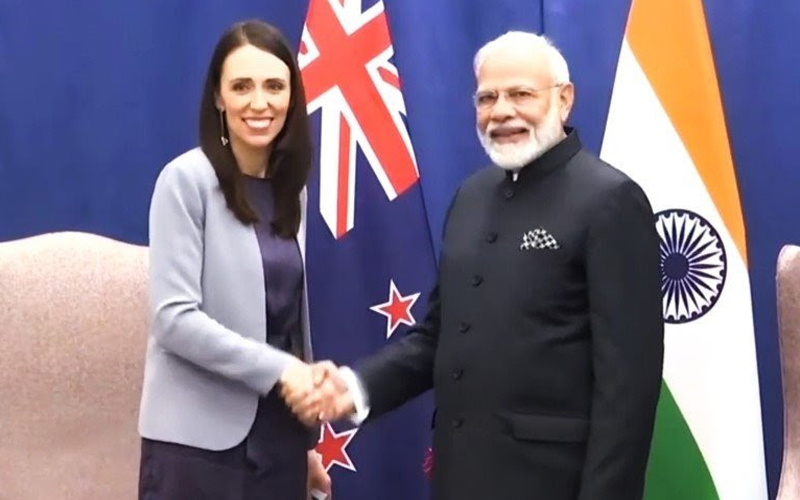 Auckland: New Zealand Prime Minister Jacinda Ardern had met with India's Prime Minister Narendra Modi on the sidelines of the High-Level Segment of the 74th United Nations General Assembly in New York on 25 September 2019.
This was the second bilateral meeting between the two Prime Ministers after the first meeting on the sidelines of East Asia Summit held in Manila on 13 Nov 2017.
Both sides reviewed the bilateral relations between the two countries and expressed satisfaction at their steady growth.
The bilateral meeting was scheduled as the last official engagement of the day for both the leaders who were busy throughout the day in frantic meetings with diplomatic, political and business leaders.
Ms. Ardern had earlier filmed to make a cameo appearance on The Late Show with Stephen Colbert – the show where she made a much popular appearance last year and averted a diplomatic crisis of not criticizing American President Donald Trump on a live Television show.
Mr. Modi utilized the major part of the day meeting with political and business leaders, including addressing the Bloomberg Global Business Forum and meeting at least 42 CEOs of global companies.
India and New Zealand historically share close and cordial ties.
New Zealand and India enjoy a growing trade relationship and New Zealand is negotiating toward a free trade agreement with India, both bilaterally and through the Regional Comprehensive Economic Partnership (RCEP).
In 2011, NZ launched the NZ Inc India Strategy, aiming to make India a core trade, economic and political partner for New Zealand. India was NZ's 11th largest two-way trading partner (2017) with total trade in both goods and services valued at US$1.91b.
Education and tourism have emerged as growth sectors with increasing numbers of both categories coming from India to NZ.
NZ goods exports to India were valued at US$485.71m, mostly consisting of – logs and forestry products (US$193.57m), mineral fuels & oils (US$55.82m), wood pulp (US$32.14m), wool (US$27.85m) and edible fruit & nuts (US$24.28m).
Goods imports into NZ from India were valued at US$423.57m, mostly consisting of – pharmaceuticals/medications (US$50m), precious metals & gems (US$42.14m), textiles and motor vehicles (US$25m each) and non-knitted apparel and accessories (US$19.28m).
Subscribe us on