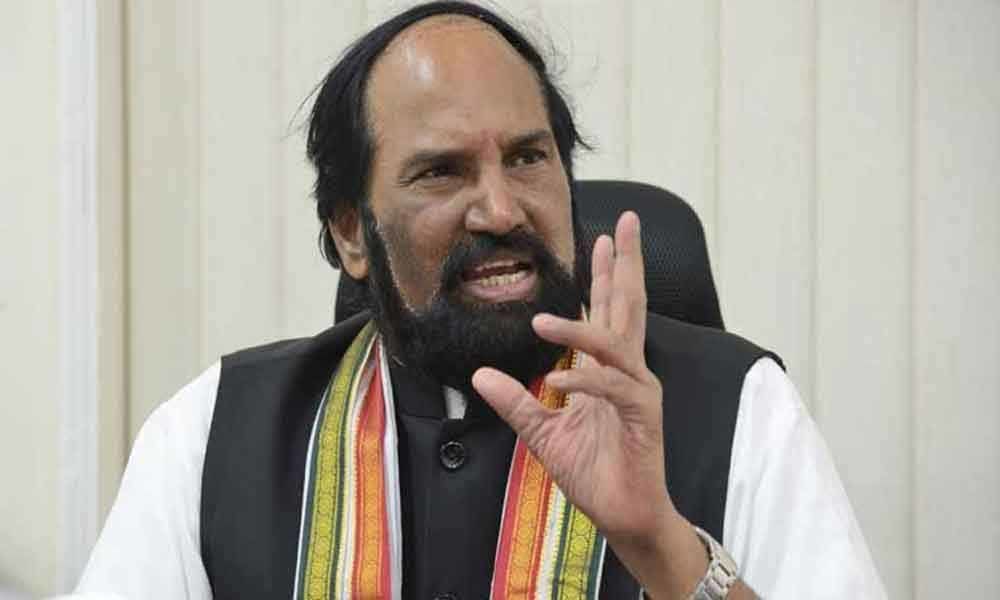 Hyderabad: Telangana Pradesh Congress Committee (TPCC) President and Nalgonda MP  N. Uttam Kumar Reddy have alleged that Energy Minister Jagadish Reddy was pressuring the Congress workers to join TRS by implicating them in false cases.
Addressing a press conference at Suryapet on Monday, Uttam Kumar Reddy said that several Congress workers who were implicated in fake cases in June this year were forcibly inducted into the TRS on Sunday in the presence of Minister Jagadish Reddy. He alleged that Suryapet Superintendent of Police Venkateshwarlu was acting as an activist of TRS and harassing Congress workers so as to pressurize them to join the ruling party. He demanded that SP Venkateshwarlu be suspended and a case is registered against him for misusing his official position. He threatened to go on hunger strike for two days in protest against the nexus between TRS and Police aimed at terrorizing Congress workers.
Uttam informed that a minor altercation between TRS and Congress activists took place in Tummaram village of Chintalapalan Mandal of Surpayet district on June 8 this year. Originally, he said after TRS won the Damaru MPTC seat with just 4 votes on June 7, the TRS workers took out a victory rally and pelted stones at the residences of Congress workers and also attacked them. A Congress leader Gopi Goud was severely injured and got eight stitches. In retaliation, the Congress workers had minor clashes with TRS workers on the next day. Instead of making the workers of both the parties stay calm and live in a cordial atmosphere, Surpayet SP Venkateshwarlu, at the behest of Minister Jagadish Reddy, escalated the issue by registering cases under serious offenses.
They were kept in illegal detention and brutally tortured in the presence of TRS workers. Police registered cases against 45 Congress leaders and workers under multiple sections. While TRS workers were given police station bail by registering a case under Section 324, the Congress workers were booked in serious offenses including Section 307, 324, 35, 148 and 147 and were remanded to judicial custody.
The TPCC President said that the Congress workers were lodged in Huzurnagar Sub-Jail for 41 days. On their release from jail on July 19, the TRS workers again approached them threatening of dire consequences if they refuse to join the ruling party. They were also assured that cases registered against them would be withdrawn if they join the TRS. He said local Congress leaders including Sarpanch Narsi Reddy, former Sarpanch China Reddy, Govardhan Reddy, and Ghani joined the TRS in the presence of Minister Jagadish Reddy while SP Venkateshwarlu, DSP Sudharshan and other police officials who harassed and tortured them were also present.
 Reddy alleged that the TRS minister was trying to throttle democracy in Suryapet district by using illegal means and misusing police force to damage the Congress party. He said that the Congress party was all set to retain the Huzurnagar seat in by-elections despite all wrong tactics being used by the TRS. He asked the police officials not to violate law and urged them to act as per law without showing any inclination towards any political party.
NSS
Subscribe us on