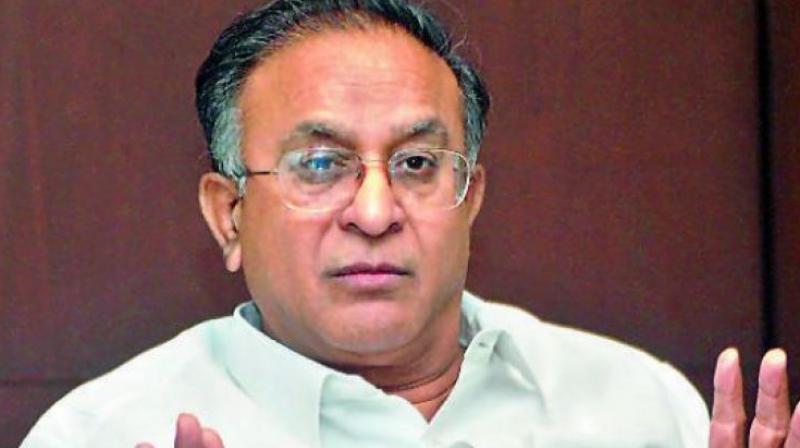 Hyderabad:  The last rites of former Union minister and senior Congress leader S. Jaipal Reddy was performed with full state honors at PV Ghat on Monday. Hundreds of Congress workers and the supporters of Jaipal  Reddy took part in the funeral procession. 

The body of the veteran Congress leader was brought to Congress State office Gandhi Bhavan to enable the party workers to pay homage to the departed leader. Leader of the Opposition in Rajya Sabha Ghulam Nabi Azad, Karnataka CLP leader Siddaramaiah, Karnataka Assembly Speaker Ramesh Kumar, Telangana CLP leader Mallu Bhatti Vikramarka and scores of other Congress leaders also paid rich floral tributes at the body of Jaipal Reddy. 

Later, the funeral procession started from Gandhi Bhavan and headed towards the PV Ghat on the Necklace Road. Jaipal Reddy's elder son Aravind lit the pyre at the ghat. The State government accorded guard of honor on the occasion.
            
State leaders of various parties paid homage include Uttam Kumar Reddy, Jana Reddy, Bhatti Vikramarka,  Shabbir Ali, DK Aruna,  Talasani Srinivas Yadav,  T Harish Rao,  Indrakaran Reddy,  MLAs,  MLCs, MPs Keshav Rao,  Gutha Sukhender Reddy, and others. The State government allotted land for Jaipal memorial at the same location.  
Vice President M Venkaih Naidu, as Chairman in Rajya Sabha, got emotional while condoling the death of his old friend Jaipal Reddy.
NSS
Subscribe us on