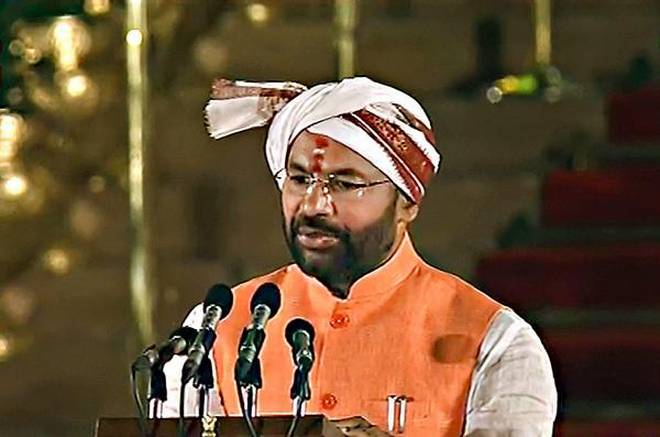 Hyderabad: Mr. G Kishen Reddy Union Minister of State for Home today appealed to the Youth and people to celebrate festivals peacefully. He said that there was peace in Jammu and Kashmir post the abrogation of Article 370
He said that there was peace in Jammu and Kashmir post the abrogation of Article 370
Speaking to media persons here on the sidelines of the National Seminar on Cyber Security at Institute of Engineers Mr. Kishen Reddy said that section 144 will be lifted within the week to ten days and expressed hope that there will be normalcy in the Valley.
That last 70 years Indians were like aliens in their own country and now the abrogation of Article 370 has led to the extension of Indian Constitution in totality to Jammu and Kashmir and said that at many places section 144 has been relaxed in Jammu and Kashmir even today.
He said that Pakistan was trying to mislead people by giving false reports similarly to some political parties in the country with their own vested interests and not interest were also misleading people he said.He also said that communication was also being restored in some places and will be done soon in many places. He said that with Abbrogation development of Jammu and Kashmir will take place. There will be right to education and other rights which can be enjoyed by the people of Jammu and Kashmir he added.
Meanwhile, the Ministry of Home Affairs on Saturday rubbished reports suggesting that over 10,000 people participated in a protest in Srinagar over the abrogation of Article 370 and reorganization of Jammu and Kashmir. A statement by the ministry said that the reports were "fabricated and incorrect".
According to the Home Ministry, there have been a few stray protests across the state.
"There are media reports claiming there was a protest involving 10,000 people in Srinagar. This is completely fabricated and incorrect. There have been a few stray protests in Srinagar/Baramulla and none involved a crowd of more than 20 people," read the statement released by the MHA.
Subscribe us on