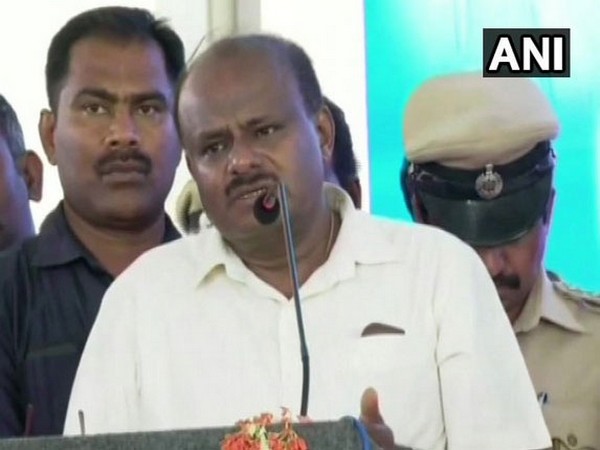 Bengaluru: In a clear indication that all was not well with the alliance partner Congress, a beleaguered Karnataka Chief Minister H.D. Kumaraswamy has admitted that he was in 'pain' every day in running over a year-old coalition government.
"I can't tell you the pain. From outside I may be the CM (chief minister). Every day I'm going through pain, but I ask you who'll solve the problems of the people," said Kumaraswamy at an interaction with the people in Ramanagaram, about 40km southwest of Bengaluru towards Mysuru on Tuesday.
Kumaraswamy represents the silk weaving town in the state assembly.
Though Kumaraswamy contested and won from the high-profile Ramanagaram as well as the adjacent Channapatna in the May 2018 assembly elections, he retained the former and got his wife K. Anitha elected from the latter in a by-election in November.
Asserting that there was no threat to his government and that he would complete its remaining 4-year term despite differences with the ally over several issues, the Chief Minister sought to blame the BJP for creating uncertainty and attempting to destabilise his ministry by wooing the ruling allies' legislators to defect to the saffron fold.
"Though you all are happy that I became the chief minister, I am not because I know the pain of heading a coalition government and running it despite pulls and pressures from all sides," he said.
Assuring the pubic of fulfilling their expectations despite feeling the pain, the chief minister said he had the responsibility of running the government.
"I can't give the reason behind my pain now, as am responsible to run the state well and ensure the officials has the confidence in running the government," said Kumaraswamy.
A fractured verdict in the 2018 assembly poll threw up a hung House with none of the three mainstream parties securing the halfway mark (113) for a simple majority to form a government on their own.
In the 225-member assembly, including one nominated from the Anglo-Indian community, the BJP has 105, Congress 78, excluding speaker, JD-S 37, one from a regional outfit – Karnataka Pragyavantara Janata Paksha (KPJP), one from Bahujan Samaj Party (BSP) and one Independent.
Refuting reports of a rift between the ruling allies, Congress Legislative Party (CLP) leader Siddaramaiah said there was no threat to the coalition government and there were no problems in continuing the alliance.
"It is the BJP which is trying to create differences between us (Congress and JD-S) and there was no threat to the government, which remains strong due to post-poll tie-up to keep the BJP out of power at any cost," Siddaramaiah said./Eom/430 words.
[source_without_link]IANS[/source_without_link]
Subscribe us on