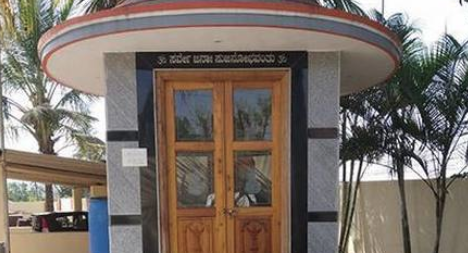 The new Ganesha temple on the police station premises has raised questions about propriety, while some raising a concern that a police station is a secular space and should not to host a religious structure.
The newly built temple was funded by over 8,500-odd residents of Gonibeedu and with the approval of the local police. The idol installation ceremony was organised by the villagers on Wednesday. Police officials from Gonibeedu and neighbouring stations joined in the event.
G.N. Raghu, honorary president of Vinayaka Geleyara Balaga (VGB) of Gonibeedu, who played a key role in building the temple stated that "People from all castes and religions have contributed funds and construction materials. Mohammed Ali, a trader in Gonibeedu, looked after the lighting arrangements."
Earlier there was an anthill (cone-shaped formation constructed from sediment by ants) where the temple has been built now, and locals used to worship it, said Mr Raghu. "However, they stopped doing so after the gram panchayat allotted the land to the police station and the station's compound wall came up, cutting off public access to the anthill," he said.
According to the report published in The Hindu, over the years, decreased rain, business failures and even an increase in accidents began to be connected to the neglect of the sacred anthill.
The villagers invited a tantrik from Kerala, who advised them to build a temple where the anthill used to be. The villagers then requested police officials for permission to build a temple, said VGB treasurer K.R. Prakash.
However, the temple build on the police station premises has raised an objection from some people. A.V. Krushik, a native of Sringeri, said the premises of a secular place such as a police station could not be used for a temple.
The SP of Chikkamagaluru, Harish Pandey said that it was not a new structure and locals had been offering prayers there for long. As sub-inspector attended the ceremony, he said since he was present at the station, he also went."
[source_with_link url="https://www.thehindu.com/news/national/karnataka/a-temple-in-a-police-station-to-stay-safe/article26143006.ece"]THE HINDU[/source_with_link]
Subscribe us on