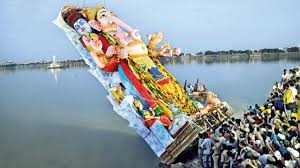 Hyderabad: Khairtabad Ganesh, perhaps the biggest in the country, could be properly immersed this time as GHMC has desilted a large part of Hussain Sagar to deepen the spot where the idol is lowered.
Unlike in the previous years, where 'immersion' of Khairtabad Ganesh idol was a mere formality with the idol continuing to float after being lowered this time necessary steps have been taken to make the process "complete and meaningful."
It is believed that Vinakaya Chaturthi prayers and rituals are complete only if the Ganesh idol goes down fully below the sheet of water at the immersion spot.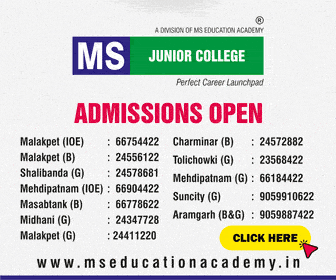 A senior GHMC official said that the corporation has taken desilting of the lake.
Primarily debris, including remains of last year's Ganesh idols and fibrous material, are being removed. This desilting, however, is not the same as clean-up of the bed. Special measures are being taken by workers to prepare the lake bed.
About 50,000 idols will be immersed in Tank Bund this year, with the processions covering over 162 km in the city. On Friday, Cinematography Minister Talasani Srinivas Yadav inspected the area around NTR Marg for the main Ganesh Nimajjanam to be held on September 12.
The organizers of the Khairatabad Ganesh Utsavam Samithi were cooperating, he said.
Last year, the Samithi had agreed to the immersion of the idol of Khairtabad Ganesh in the early hours.
The Minister said that the Ganesh Shoba Yatra would take place along the route. So, apart from road repairs, steps had been taken to provide amenities and special lighting, he said.
Subscribe us on