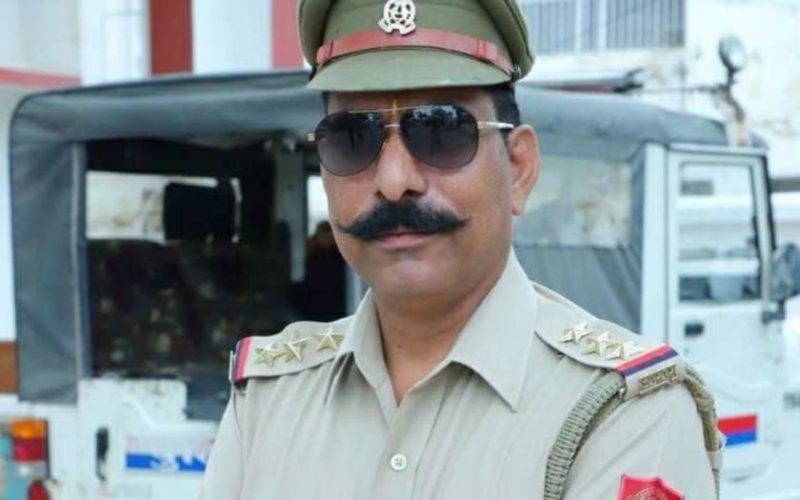 In an emotional appeal, the widow of slain Uttar Pradesh Police Inspector Subodh Kumar Singh, has appealed to Chief Minister Yogi Adityanath to cancel the bail of the accused persons involved in the killing of her husband.
"My children are insecure. We all are frightened. Protect us from them as they are now released from jail," said the widow of Inspector Singh, to the media.
Her husband was killed by a frenzied mob in Bulandshahr in a cow slaughter violence, last year. 
A video, showing the accused being welcomed with garlands, went viral on social media, has now snowballed into a major political duel between ruling BJP and the Opposition. 
Talking to the IANS on phone, a senior police officer of Meerut Zone said that despite all efforts of the prosecution, the High Court, granted bail to the accused. "We are monitoring the situation. The local police is on alert," said the official. 
On Saturday night, seven persons accused of killing a police inspector in cow slaughter violence in Bulandshahr last year, were given a hero's welcome by their supporters when they came out on bail.
As soon as they stepped out of Bulandshahr Jail, all the accused were garlanded and greeted with slogans of 'Bharat Mata Ki Jai' and 'Vande Mataram'. Later, the supporters also threw a "welcome party" in "honour" of the seven men.
The matter came to light after a video of the 'party' was shared on the social media on Sunday night.
Shikhar Agarwal, reportedly associated with Bharatiya Janata Yuva Morcha (BJYM) and Jitendra Malik, an Army personnel were among the seven accused released on bail.
They are accused in a case of mob violence that took place on December 3 after a cow carcass was found in a sugarcane field near Mahav village of Siyana in Bulandshahr.
Subodh Kumar Singh, the station house officer of Siyana, and local youth, Sumit Kumar, were killed in the violence and Chingrawati police picket was set on fire.
Soon after the violence, police booked 27 named and more than 60 unnamed in the violence under more than a dozen IPC sections including 302 (murder), 307 (attempt to murder), 395 (dacoity), 333 (grievous hurt to public servant), 124 A (sedition) etc.
However, the release of the seven accused belies the local police' claim that they had prepared a 'watertight' case against them.
Senior Superintendent of Police of Bulandshahr Santosh Kumar Singh said those released were not facing stringent sections and were booked for rioting and not murder.
"A total of 10 people have been granted bail out of which seven were released. The accused granted bail were booked for rioting. None of the accused booked for murder has been granted bail," he said.
Malik, an Army man from 22 Rashtriya Rifles and posted in Sopore, Jammu and Kashmir, was arrested by the Uttar Pradesh Special Task Force (UP STF) on December 9 after his name came up as the main conspirator who killed inspector Subodh Kumar Singh. But, he was not charge sheeted for the murder.
"We had approached the High Court to seek relief following which seven accused were granted bail. Jitendra Malik has also reported to the Army base in Meerut's Babugarh area after his release," said Sanjay Sharma, Malik's advocate.
Subscribe us on