The rising air pollution in the country is very unhealthy and a serious matter of concern considering its effects on health. The government is trying its best to combat the pollution.
Among the top metropolitan cities in India, a report by the World Health Organization (WHO) has earlier confirmed that Kolkata is the second-most polluted metropolis in the country, next only to Delhi. The study further revealed that Kolkata's air quality is declining faster than Delhi's.
The latest Air Quality Index of Delhi and Kolkata falls under the category of 'Unhealthy' in which according to the waqi.info everyone may begin to experience health effects and members of sensitive groups may experience more serious health effects, here are today's Air Quality Index od Delhi and Kolkata respectively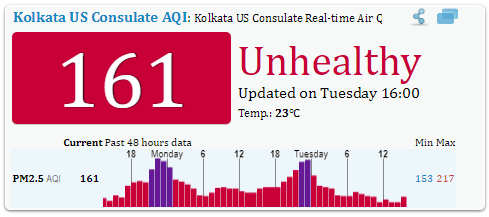 Air pollution is measured by an index called Air Quality Index (AQI), it is a number used by government agencies to communicate to the public how polluted the air currently is.
Air pollution is almost as deadly as tobacco. Around 92 per cent of the world's population lives in areas with dangerous levels of air pollution. According to the University of Washington's Institute for Health Metrics and Evaluation, in 2016, it was linked to the deaths of 6.1 million people.
The health effects caused by air pollution may include difficulty in breathing, wheezing, coughing, asthma and worsening of existing respiratory and cardiac conditions.
Subscribe us on