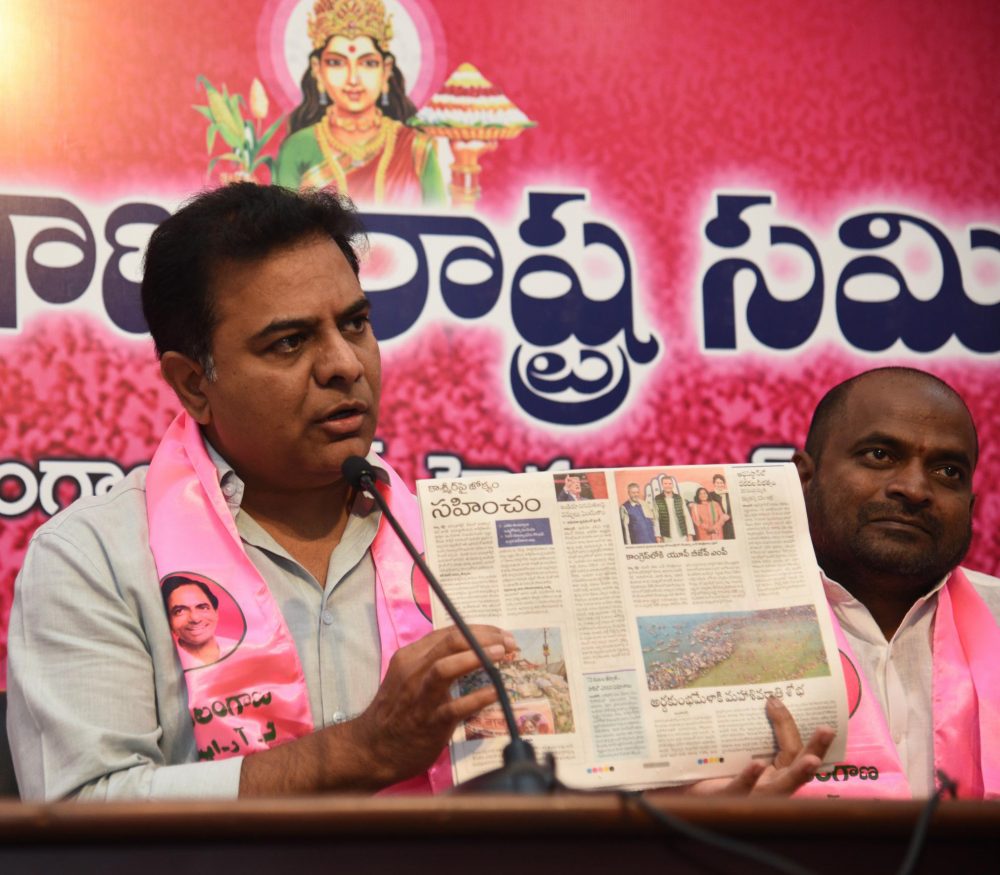 Hyderabad: TRS working president KT Rama Rao today criticized Andhra Pradesh Chief Minister N Chandrababu Naidu for trying to malign the image of the TRS Government after stealing the data of AP people
Talking to mediapersons at Telangana Bhavan, the former minister charged Chandrababu Naidu with illegally transferring data of the AP people to help his TD men running Seva Mithra company.
Chandrababu Naidu, who was caught in the infamous "vote for note" case, was now doing committing the same mistake, he fumed. The AP Chief Minister should avoid indulging in such malicious campaign against the TRS regime, he suggested. "Naidu should not indulge in cheap politics by cheating their people and throwing the blame on Telangana", he charged. He also sought to know as to why Chandrababu stole the data of the people. He attributed the act of the TD regime to win in the upcoming LS polls by indulging in irregularities. It is shame on part of Chandrababu to steal the data of the people and blame other States for no use, KTR said.
In a related development, the High Court has quashed a complaint of Seva Mithra MD Ashok, who complained of illegal arrest of his staff. He said police in Hyderabad took his staff into custody after a complaint was filed by Lokeshwar Reddy. Known for resorting to grave mistakes, Chandrababu Naidu was beating drums against the TRS Government instead of stopping such "senseless" things, he fumed. He also charged the TD supremo with indulging in electoral irregularities to win the upcoming polls by false means.
TPCC leadership has to clarify whether they purchased the leaders like Revanth Reddy, K Vishweshwar Reddy and others. The leaders joining the TRS fold for developing their segments as the people gave mandate for the ruling party for second time, he claimed. The Congress should stop making false charges as the people are not ready to believe in them, he added.
[source_without_link]NSS[/source_without_link]
Subscribe us on