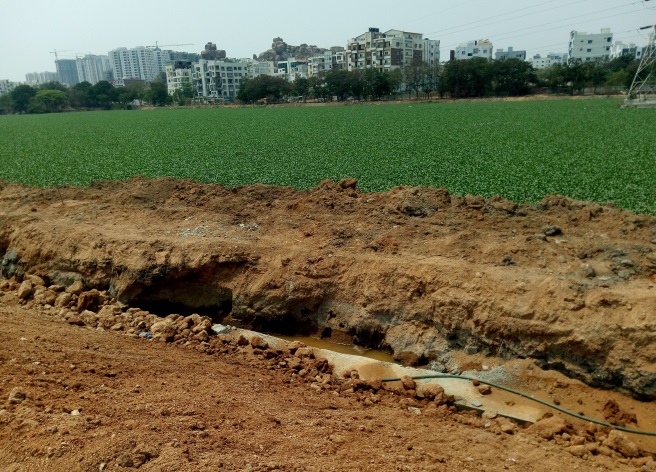 Author: Mohammed Hussain
Hyderabad: Malkam Cheruvu at Rai Durgam is undergoing remodelling since 2017 and everything has changed. Water is remarkably shallow, deepening day after day with the efforts of Greater Hyderabad Municipal Corporation (GHMC). The corporation is allegedly removing silt and dumping it on the bank. Ultimately lessening the size of the lake even further.
On the report of Greater Hyderabad Municipal Corporation, Superintending Engineer, Hyderabad Lakes & Water Bodies Management Circle stated that 0.61 acres were affected due to Immersion pond, 0.05 acres due to access control gate in front of Ganesh immersion pond and, 2.59 acres due to Peripheral Ring bund around the lake.
According to satellite maps, the size of the lake has shrunk to a greater extent after 2016 and now, there is new bund is being constructed right within the full tank level limit of the waterbody.
"I do not know what is being made out of it. My job is to remove the slit and throw it on the bank," said a JCB operator working at Malkam Cheruvu lake.
"There is hardly any plastic inside the lake, it was all removed earlier, and yet the lake stinks it is because of the drainage pipes," added the JCB operator.
According to the corporation, the concrete entrance on the lake bed is built by Aparna Constructions as a part of corporate social responsibility and GHMC is constructing the walkway. Three sides of the lake are already covered by roads two of them were a new invention to facilitate the commute towards high rise residential buildings.
A city-based lake-protection activist Lubna Sarwath said, "Lake is tormented by multiple illegalities, GHMC deceived High Court by considering the fencing constructed by Building Company Aparna Constructions as actual fencing of the lake, which is fatally wrong. The road is also illegal because it stands on the full tank level," the activist who has also filed a petition in the High Court continued, "They have constructed an immersion pond, yet again, right inside the lake and misguided the court."
"Finally, the accused Aparna Constructions is given a charge to clean the lake," she continued, "The lake is concretized and culverted, there are no natural inlets, and so water is a gravely polluted. It is not a lake anymore, It is a polluted pond!" added the activist.
The inflow towards the lake is affected because of concrete structures, and there are no trees or reeds alongside the lake which naturally purify the water before it enters into the lake.
mohammedhussain.reporter@gmail.com
Subscribe us on