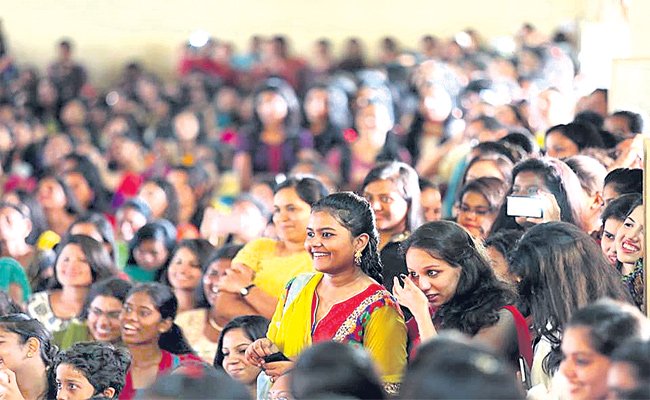 Hyderabad: St Francis College for women which is an all-girls college in Hyderabad caused outrage among its students last week when it issued new rules stating that students can only wear salwar-kameez and kurtis which have to be below-the-knee length and sleeves have to cover their three-quarters of the arm.
This came after the students had already signed an undertaking while the admission process stating that they will never wear crop tops, dresses, skirts or sleeveless tops to college as it is a rule mentioned in the prospectus of the St. Francis College.
A number of students on Friday, 26 July, had organized a protest against this decision.
They had written a letter addressing it to the principal and detailing the problems they had with the new kurti rule.
However, when the protest started the principal refused to address the crowd and instead asked a representative of the group to meet her in peace.
"Earlier we were only allowed to wear long tops. We knew that we were not allowed to wear anything that was even minutely revealing."
"If we failed to comply, then the teachers were well within their rights to throw us out of the class." Says Sameena* student of St.Francis college.
From 1 August, the students were allowed to wear only salwaar-kameez and kurtis as per the new rules. But according to students, there are other problems the administration should focus on.
A student of St.Francis College said, "There are several issues with my college, for instance, the washrooms don't even have water."
"Girls contract UTIs every day! But they chose to address a non-concern: that is to make students cover up! I mean, how does it matter what I wear?"
St Francis' infamous kurti rule went into force and several girls were made to miss their first lectures because they were told they were not 'appropriately' dressed for college.
Students claimed that the management stationed a male guard at the entry gate to scan every student and ascertain that they are dressed as per new code.
"How is that appropriate? In fact, I felt so uncomfortable when he looked at me from head to toe. It was creepy," said one of the student.
The girl students faced comments from the staff, from, trying to gain unnecessary male attention (by wearing t-shirts, tops, etc), to being told how 'hiding the thighs' is appropriate for young girls, to even suggesting that wearing kurtis up to the knee will fetch them good marriage proposals.
 Students claimed that the faculty gave a number of reasons to validate the new kurtirule.
They were even asked to seek a transfer to another college if they weren't willing to follow the norm.
However, the principal of the college 'Sister Sandra Horta' has denied that the staff has given any such advice to the students.
Sister Sandra commenting on the issue said, "In our college, the tradition is that we have a formal dress code. This rule has always been there."
"As some students weren't obeying, we are trying to straighten things out. Students who are making noise about it must concentrate on academics, not on such trivial issues." She added.
A girl should be two things who and what she wants- quote

by Coco Chanel
By Roshan Bint Raheem
Subscribe us on