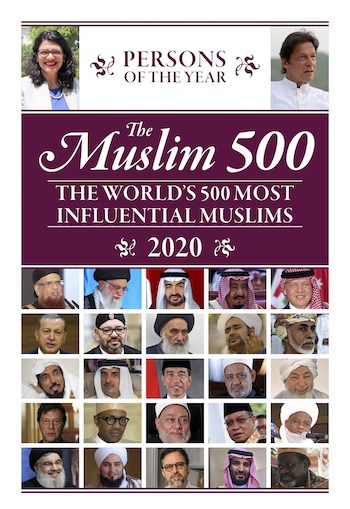 Jordan: Jordan-based Royal Islamic Strategic Studies Centre (RISSC) has released The 2020 Edition of the Muslim 500 naming 500 Influential Muslims of the world.
Leading scholar of Hadith, Islamic jurisprudence and Islamic finance Justice Sheikh Mufti Muhammad Taqi Usmani tops the list, while, Pakistan's Prime Minister Imran Khan is named the 'Man of the year', and US Congresswoman Rashida Tlaib has been named 'Woman of the year'.
Ayatollah Khamenei the second Supreme Leader of the Islamic Republic of Iran is on second number. Turkish president Recep Tayyip Erdogan is on 6th number. Saudi Crown Prince Mohammed bin Salman is on 24th position.
• The Top 50 •
HE Justice Sheikh Muhammad Taqi Usmani
Scholar and Deobandi Leader (6)
HE Grand Ayatollah Hajj Sayyid Ali Khamenei
Supreme Leader of the Islamic Republic of Iran
(4)
HH General Sheikh Mohammed bin Zayed
Al-Nahyan
Crown Prince of Abu Dhabi and Deputy Supreme Commander of the UAE Armed Forces
(15)
HM King Salman bin Abdul-Aziz Al-Saud
King of Saudi Arabia
Custodian of the Two Holy Mosques (2)
HM King Abdullah II Ibn Al-Hussein
King of the Hashemite Kingdom of Jordan,
Custodian of the Holy Sites in Jerusalem (3)
HE President Recep Tayyip Erdogan
President of the Republic of Turkey (1)
HM King Mohammed VI
King of Morocco (5)
HE Grand Ayatollah Sayyid Ali Hussein
Sistani
Marja of the Hawza, Najaf, Iraq (7)
HE Sheikh Al-Habib Umar bin Hafiz
Scholar and Director of Dar Al Mustafa, Tarim,
Yemen (8)
HM Sultan Qaboos bin Sa'id Al-Sa'id
Sultan of Oman (12)
Sheikh Salman Al-Ouda
Scholar and Preacher (10)
HH Emir Sheikh Tamim bin Hamid Al-Thani
Emir of Qatar (19)
HE President Joko Widodo
President of Indonesia (16)
HE Sheikh Dr Ahmad Muhammad Al-Tayyeb
Grand Sheikh of the Al-Azhar University,
Grand Imam of Al-Azhar Mosque (9)
HE Sheikh Abdullah bin Bayyah
Scholar and President of the Forum for Promoting Peace in Muslim Societies (11)
HE Imran Khan
Prime Minister of Pakistan (29)
HE President Muhammadu Buhari
President of Nigeria (17)
HE Sheikh Dr Ali Gomaa
Former Grand Mufti of the Arab Republic of
Egypt (18)
Professor KH Said Aqil Siradj
Chairman of Indonesia's Nahdlatul Ulama (20)
HRE Amirul Mu'minin Sheikh As-Sultan
Muhammadu Sa'adu Abubakar III
Sultan of Sokoto (21)
Seyyed Hasan Nasrallah
Secretary-General of Hezbollah (23)
Sheikh Habib 'Ali Zain Al Abideen Al-Jifri
Preacher and Director General of the Tabah
(24)
Sheikh Hamza Yusuf Hanson
Teacher and Co-Founder of Zaytuna College
(25)
HRH Crown Prince Muhammad bin Salman
bin Abdul-Aziz Al-Saud
Crown Prince of Saudi Arabia (13)
Sheikh Ahmad Tijani bin Ali Cisse
Leader of the Tijaniyya Sufi Order (22)
37
He said, 'Certainly not! indeed I have my Lord with me. He will guide me'.
The Poets 26 : 62
Calligraphy by Hasan Kan'an © FreeIslamicCalligraphy.com
HE Sheikh Abdul-Aziz ibn Abdullah Aal
Al-Sheikh
Grand Mufti of the Kingdom of Saudi Arabia
(26)
Sheikha Munira Qubeysi
Leader of the Qubeysi (27)
Maulana Mahmood Madani
Leader and Executive Member of Jamiat Ulema-e-Hind, India (32)
Sheikh Mustafa Hosny
Preacher (34)
Sheikh Usama Al-Sayyid Al-Azhari
Scholar (35)
HH Shah Karim Al-Hussayni
The Aga Khan IV, 49th Imam of Ismaili Muslims (36)
HE Sheikh Dr Yusuf Al-Qaradawi
Head of the International Union of Muslim
Scholars (30)
Habib Luthfi bin Yahya
Preacher (37)
Sheikh Abdul-Malik Al-Houthi
Leader of the Houthi (38)
Sheikh Mahmud Effendi
Scholar and Preacher (39)
Maulana Tariq Jameel
Scholar and Preacher (40)
Sheikh Moez Masoud
Preacher and Televangelist (31)
HE President Halimah Yacob
President of Singapore (41)
Sheikh Rached Ghannouchi
Tunisian Politician (28)
Sheikh Muhammad Al-Yaqoubi
Scholar (42)
Professor Seyyed Hossein Nasr
Philosopher and University Professor (43)
HE Mahathir Mohamad
Prime Minister of Malaysia (44)
Sheikh Uthman Taha
Calligrapher (45)
Mohammed Salah
Footballer (46)
Sheikh Muqtada Sadr
Scholar and Political (47)
HE President Mahmoud Abbas
President of Palestine (HM)
Dr Aref Ali Nayed
Scholar (48)
Dr Timothy Winter (Sheikh Abdal Hakim
Murad)
Islamic Scholar (HM)
Dr Mohamed Bechari
French activist (50)
Maulana Nazur ur-Rahman
Amir of Tablighi Jamaat, Pakistan (new)
Indian Islamic Scholar Maulana Mahmood Madani is on 28th position. Noted Pakistani scholar Maulana Tariq Jameel is on 36th position.
In The 2020 Edition of the Muslim 500 (The World's 500 Most Influential Muslims), the first 50 persons are religious leaders and chiefs of the states while the remaining 450 persons belong to 13 other fields including politics, social and media fields.
Under the head Administration of Religious Affairs, the list also mentions eight other Indians including Shaikh Abooobackar Ahmed, Sayyid Ibrahimul Khaleel Al-Bukhari, Maulana Saad Kandhalvi, Mufti Abul Qasim Nomani, Maulana Shakir Ali Noorie, Hyderabad MP and MIM president Asaduddin Owaisi and Maulana Zuhair ul Hassan.
Subscribe us on