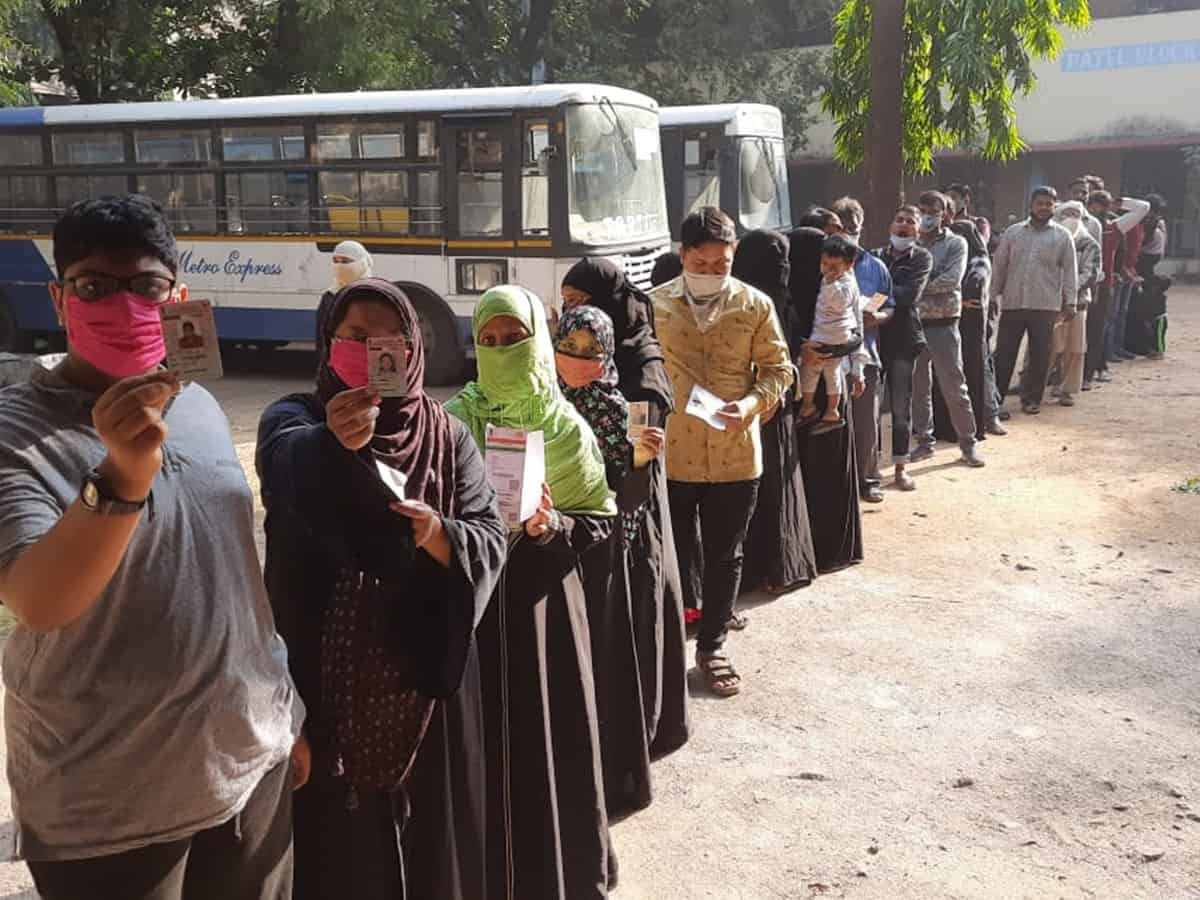 Hyderabad: Amid tight security, polling got underway for the elections to Greater Hyderabad Municipal Corporation (GHMC) on Tuesday.
The polling began at 7 a.m. at 9,101 polling stations in all 150 divisions.
A total of 74,67,256 voters are eligible to cast their votes. They include 38,89,637 men, 35,76,941 women and 678 others.
Here are the Live updates:
06:00 pm: Voting for the elections has ended. Final voter percentage will be released as per the signed report by Telangana state election commission.
05: 00 pm: 35.80 percent voter turnout was recorded till 5pm as per the election commission. The State Election Commissioner, C. Parthasaradhi, said that the polling percentages are low because of the COVID-19 impact.
03: 00 pm: According to the election commission, 25.34 percent voter turnout recorded till 3 pm
01:50 pm: Home Minister Mohammed Mahmood Ali and TRS MLC Kavitha Kalvakuntla cast vote.
01:40 pm: Rumors of vote-rigging in the Jiaguda ward were announced to be fake by the State Election Commission (SEC). It said, "There is no truth in reports of large-scale vote-rigging in the Jiaguda ward. A total of 914 votes were cast at polling station 38 in Jiaguda, with the exception of 268, where the remaining votes were transferred to polling stations 29,30,31."
01:33 pm: Bandaru Vasantha, wife of Governor for Himachal Pradesh Bandaru Dattatraya and daughter Bandaru Vijayalakshmi casted vote at polling booth no. 10 J.V. High School, Adikmet Division in Musheerabad Constituency.
01:14 am: 18.20 percent voter turnout recorded till 1 pm. As of now, the highest polling percentage is at Gudimalkapur 49.19 per cent and the lowest is at Rein Bazaar with 0.56 per cent.
The polling percentage recorded in Alwin Colony is 3.83 per cent; Somajiguda 2.77 per cent; Ameerpet 0.79 per cent; Rajendranagar 9.90 percent; Vijaynagar Colony 9 per cent; Chandanagar 31.08 per cent; Banjara Hills 21.36 per cent; Jubilee Hills 12.47 per cent and lastly 12.37 per cent in Kokatpally.
01:04 pm: MBT's Amjadullah Khan Khalid alleged that women were brought from Yakutpura to Azampura for bogus voting.
12:18 pm: Re-poll likely in Jangammet ward after clashes erupted between workers of BJP and AIMIM.
12:07 pm: Polling at GHMC-ward 69 at Old Malakpet has been stopped by the authorities after in-correct party symbol belonging to the Communist Party of India (CPI) was printed on ballot paper.
12:01 pm: Telangana State Election Commission banned all exit polls till the evening of December 3.
11:25 am: Commissioner of Hyderabad City Police Anjani Kumar, Bonthu Rammohan and Chiranjeevi cast vote.
11:18 am: 8.90 percent voter turnout recorded till 11 am.
11:05 am: Volunteers provide wheel chair facility to senior citizens and physically challenged persons to cast their votes.
11:00 am: Chief Secretary Somesh Kumar IAS has cast his vote at Upparpally in Rajendra Nagar Division of GHMC.
10:44 am: Except worship places, hospitals and medical shores most of the shops are closed in view of GHMC polls.
10:00 am: TJS leader M. Kodandaram casts his vote at a polling boot in Tarnaka.
9:58 am: 4 percent polling took place in the first two hours.
9:15 am: People standing in queue at polling stations in Nampally to cast their votes.
8:58 am: Minister for State Home Affairs G. Kishan Reddy casted his vote along with his family at Kachiguda polling station.
8:49 am: Karwan constituency MLA Kausar Mohiuddin cast his vote in Tolichowki.
8:46 am: Rachakonda Police Commissioner Mahesh Bhagwat cast vote.
8:45 am: Cyberabad police commissioner VC Sajjanar cast his vote along with his wife.
8:43 am: TRS working president and state minister KT Rama Rao cast vote
8:19 am: AIMIM Chief and Hyderabad MP Asaduddin Owaisi cast his vote in Shastriputam.
Paper ballots
The election authorities are conducting the polls through paper ballots instead of Electronic Voting Machines (EVMs).
A total of 1,122 candidates are in the fray. Ruling Telangana Rashtra Samithi (TRS) is contesting all seats, BJP has fielded candidates in 149 divisions, Congress in 146, TDP in 106, MIM in 51, CPI in 17 and CPI-M in 12 divisions.
Other recognized parties have fielded 76 candidates while 415 independents are also testing their political fortunes.
Wearing of face mask is mandatory for voters coming to polling stations. Poll officials said those not wearing masks will not be allowed into the polling station.
GHMC has deployed 36,404 personnel for the polling duty. They were also provided masks, sanitisers and tissues.
COVID-19
State Election Commission (SEC) has made all arrangements have been made for smooth and peaceful conduct of the elections, duly following COVID-19 regulations.
Sanitisation of all polling stations was done before the commencement of poll process. A sanitizer is being provided at the entry and exit point of every polling station.
Circles have been marked outside the polling stations to ensure social distancing.
Director General of Police M. Mahender Reddy said over 50,000 police personnel were deployed to ensure polling in peaceful and free and fair manner.
Police commissioners of Hyderabad, Cyberabad and Rachakonda said tight security arrangements were made at the polling stations and other points.
Subscribe us on