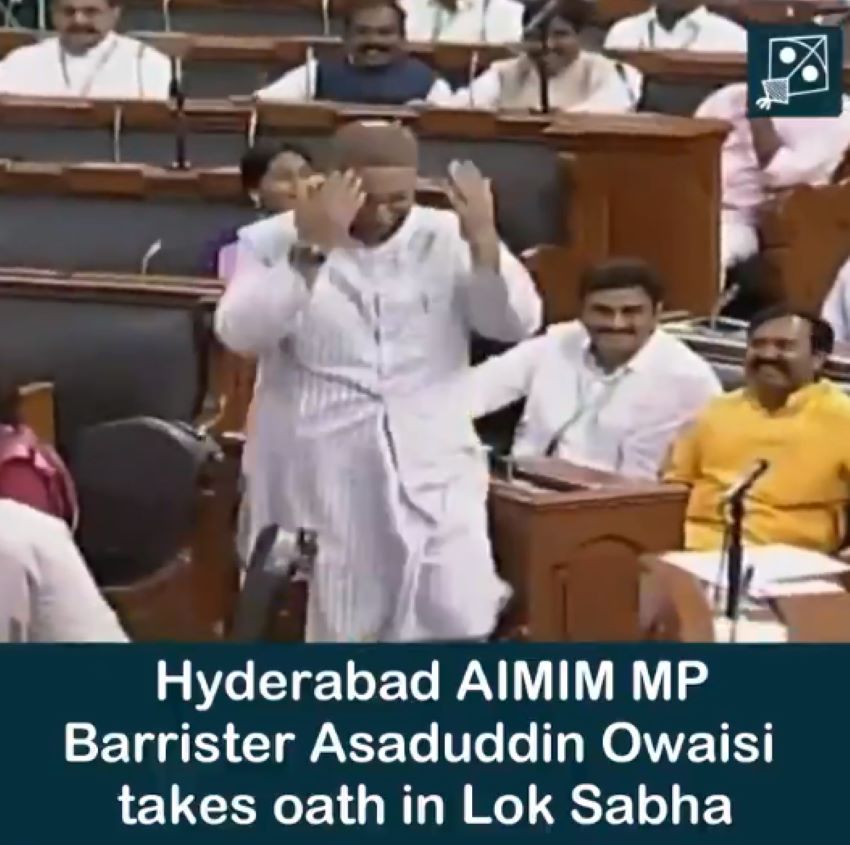 Hyderabad: When AIMIM chief Asaduddin Owaisi walked through the benches to the podium to take the 'oath', opposition party MP leaders raised slogans of 'Vande Mataram' in Lok Sabha.
The Hyderabad MP dressed in a traditional sherwani, was hurled with slogans of 'Jai Shree Ram', 'Vande Mataram', as he walked past them through the benches and the MP raised his hands in response as if asking the fellow MPs to continue sloganeering against him, TT reports.
Hyderabad AIMIM MP Barrister @asadowaisi takes oath in Lok Sabha. pic.twitter.com/objAfetEu6

— AIMIM (@aimim_national) June 18, 2019
He calmly took the oath in 'Urdu' and then turned to answer those slogans and concluded with his "Jai Bheem, Jai Meem, Takbeer Allahu Akbar, Jai Hind".
Asaduddin Owaisi, AIMIM on 'Jai Sri Ram' & 'Vande Mataram' slogans being raised in Lok Sabha while he was taking oath as MP: It is good that they remember such things when they see me, I hope they will also remember the constitution and deaths of children in Muzaffarpur. pic.twitter.com/THJN8n8out

— ANI (@ANI) June 18, 2019
State Home Minister G. Kishan Reddy, seated on the first row can be seen gesturing his party MPs to cut down on slogans.
While the whole sloganeering was going on targetting Hyderabad MP Asaduddin's religion, none of the Ministers cared to respect the 'Parliament' rather heckled an elected MP with insults.
However, the sloganeering was described as 'heckling' by some Twitter users who resented the action saying it was insulting a democratically elected Member of Parliament.
https://twitter.com/gandhi_pv/status/1140905387236872193
https://twitter.com/tamashbeen_/status/1140895613992628224
Very nice reply sir…these slogans should be in temples not in parliament, even they don't have respect for these slogans,just to tease you they were shouting….

— Dr Zia (@DrZia47028221) June 18, 2019
Parliament aur Chourahe mei ab koi khas difference nahi raha…

— Abhijeet Gaur (@abhijeetgaur9) June 18, 2019
https://twitter.com/HRWTruth/status/1140942747039404032
कसम से भजपाइयों संघियों के पिछवाड़े से धुआं निकल रहा होगा 😜🤣🤣🤣

— आत्मनिर्भर नेता जी 🇮🇳 (@Netajiapne) June 18, 2019
Subscribe us on