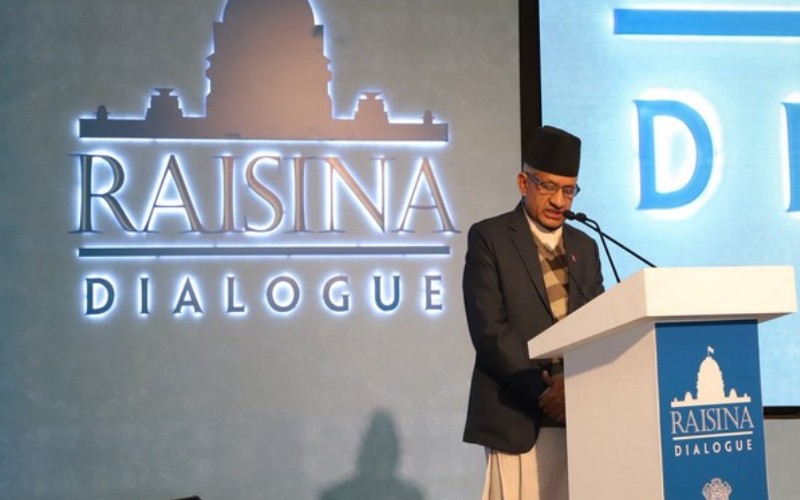 New Delhi: Noting the comprehensive relations between India and Nepal, Nepal's Foreign Minister Pradeep Kumar Gyawali on Thursday expressed hope that Kathmandu would move forward with New Delhi together to take the existing bilateral relations to greater heights.
Speaking at the Raisina Dialogue 2019 here, Gyawali said: "India and Nepal relations have been comprehensive. India is our biggest trading partner. We are connected by geography, history, religion, and cultures. Apart from the implementation of all agreements, we hope to move forward together with India, in strength and take our existing bilateral relations to newer heights."
He further said that India and Nepal could work together towards common progress and prosperity, better physical connectivity and greater people-to-people connection.
Talking about the existing world order, Gyawali elaborated, "There is uncertainty because the existing world order stands challenged and the new world order is yet to be established; because old alignments are fading and new ones are not enough; because there is growing skepticism in terms of tenacity."
"We consistently demand the creation of a level playing field for an enabling environment for all to prosper and growing economic disparity to be addressed. We continue to voice that no country should be left behind in the path to prosperity. In today's geopolitics, economy lies at the heart. It is less of an ideological divide and more of who gains from what kind of economic arrangements," he added.
The Nepali Foreign Minister underscored that globalisation is one of the attributes challenging the old world order, adding "free flow of people gets hampered as restrictions continue and are reinforced."
Claiming that Nepal has no ill-feeling against any country, Gyawali said his country is following an independent foreign policy. "Our people are peace-loving and we are not part of any military alliance," he added.
Gyawali criticised the US's protectionist policies now, saying the once proponents of globalization has now become its opponents. He also criticised the Donald Trump Administration's decision to back off from the Paris Agreement when climate change has become a serious danger to many of the countries.
He said Nepal is worried at "the uncertain world" in future as at contest are the economies of nations, with the zero some game hurting us all, especially poor economies like that of his country.
Gyawali also said that his country would work together with India to strengthen SAARC and BBIN.
Over 1,800 participants, including more than 600 delegates and speakers from 92 countries, are taking part in the three-day long Raisina Dialogue conclave, organised jointly by the Ministry of External Affairs and Observer Research Foundation.
[source_without_link]ANI[/source_without_link]
Subscribe us on