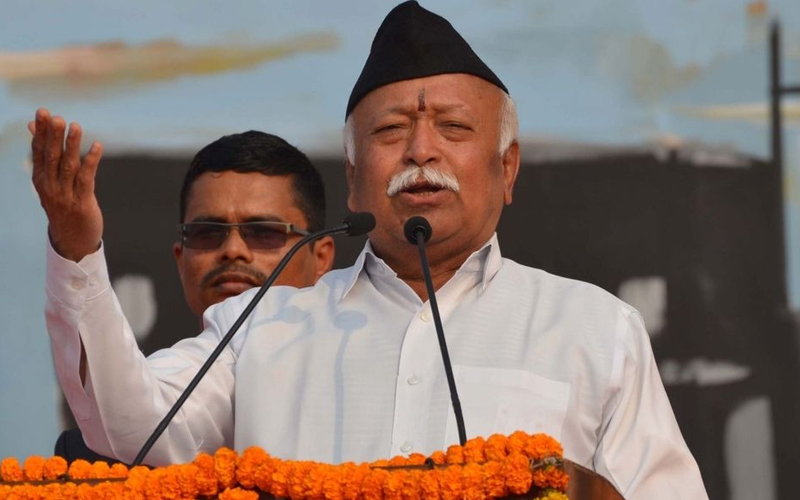 NEW DELHI: Ahead of upcoming crucial Assembly polls and Lok Sabha elections, galvanised Rashtriya Swayamsevak Sangh (RSS) swayamsevaks (cadres) across India will not only to work towards ensuring a Narendra Modi-led National Democratic Alliance (NDA) victory but also ensure that there should be 100% participation.
BJP president Amit Shah on Saturday attended a meeting, Akhil Bharatiya Pratinidhi Sabha, the Sangh's highest decision making body and "submitted" a report card of the BJP to the RSS chief Mohan Bhagwat.
The three-day meet  started in Gwalior on Friday involving over 1,400 members.
According to a functionary aware of the developments, the BJP president  considered as the former's ideological mentor had submitted that the party had secured only 31% votes in 2014 but wants a high voter turnout by the time it faces another election,
"He [Shah] had said that the party will need to improve its vote share to 50% because there are chances that it will have to face a combined Opposition grouping against it in 2019. And that is what is now happening," a functionary on condition of anonymity was quoted as saying to Hindustan Times.
The 'None of the Above' (NOTA) option, which plays a setback in Madhya Pradesh last year for the saffron party, the Sangh exhorting its volunteers to drive home the message that chooses the correct and vote the right candidate.
"The Sangh does not want votes to be wasted. It has asked its volunteers to conduct door-to-door campaigns to urge voters to come out and vote and recognise the importance of voting for those who work with the best interests of the country in mind," told a second functionary to HT.
RSS Chief Mohan Bhagwat also appealed to all Sangh workers, the swayamsevaks, to see to it that 100% voters turn up during polls.
[also_read url="https://www.siasat.com/news/people-want-something-more-just-reservations-govt-time-have-close-check-core-voters-1430244/"]People want something more than just 'Reservations' from govt, time to have a close check on core Voters[/also_read]
Bhagwat said that people should vote wisely and avoid selecting the 'None of the Above' (NOTA) option. He said voting NOTA means a voter chooses the "available worst against the available best".
RSS joint general secretary Dattatreya Hosabale on Saturday told the media persons that they had been only instructed to ensure a 100% turnout.
"Swayamsevaks have been asked to ensure that there should be 100% participation and that the electoral rolls have the names of our families and those around us. And for the government that works in the favour of the country, as the current government is doing, whatever can be done by swayamsevaks in their capacity as citizens will be done," Hosabale said.
Subscribe us on