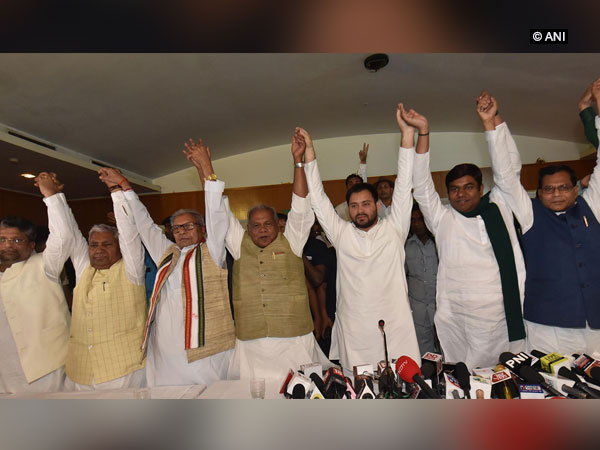 Patna: The "Mahagathbandhan" on Friday announced its candidates for the ensuing Lok Sabha elections in Bihar.
While former JDU leader Sharad Yadav will be contesting from Madhepura on RJD ticket, Misa Bharti, daughter of Lalu Prasad Yadav will be contesting from Patliputra, a seat which she lost to Ram Kripal Yadav of BJP in 2014.
Addressing a press conference here, Rashtriya Janta Dal leader and former Deputy Chief Minister of Bihar, Tejaswi Yadav announced the name of candidates.
Senior RJD leader Raghuvansh Prasad Singh will be contesting from Vaishali.
Hindustan Awam Morcha leader Jitan Ram Manjhi and Vikasshil Insan Party (VIP) leader Mukesh Sahni, popularly known as "Son of Mallah" will be contesting from Gaya and Khagaria, respectively.
Kirti Azad, former BJP leader who won from Darbhanga Lok Sabha constituency was the notable absentee from the list.
RJD leader Abdul Bari Siddiqi will be contesting from Darbhanga instead.
Sources have said the Congress may field Kirti Azad from Valmikinagar.
Another missing name from the list was that of Kanhaiya Kumar. CPI(ML) wanted to field him from Begusarai. RJD leader Tanveer Hassan will be contesting from the seat according to the list announced by the party.
However, Tejaswi announced that they have given Ara Lok Sabha seat to CPI(ML) as a "goodwill gesture" because they (CPI-ML) "fight for poor".
Tariq Anwar, who recently defected from Nationalist Congress Party (NCP) to the Congress, has been fielded from
Katihar, the seat which he won in 2014.
Sitting MP from Supaul Ranjeeta Ranjan, wife of former RJD leader Pappu Yadav has been retained from her seat.
The name of the candidate from Patna Sahib Constituency has not been announced yet. It is believed that sitting BJP MP from the seat, Shatrughan Sinha, who is all set to join the Congress party, will be fielded from here.
Speaking to reporters before he met Congress chief Rahul Gandhi in New Delhi yesterday, Sinha had said he would contest from his earlier constituency itself. "No matter what the situation is, the location will be the same," he had said when asked if he would contest from Patna Sahib.
The names of other candidates are as follows: Bulo Mandal from Bhagalpur, Jai Prakash Yadav from Banka, Raghuvansh Prasad from Vaishali, Surendra Ram from Gopalganj, Heena Saheb from Siwan. Randhir Singh from Maharajganj, Chandrika Rai from Saran, Shivchandra Ram from Hajipur, Tanveer Hassan from Begusarai, Jagadanand Singh from Baxar, Surendra Yadav from Jahanabad, Vibha Devi from Nawada, Gulab Yadav from Jhajharpur, Sarfaraz Alam from Araria, and Arjun Rai from Sitamarhi. All these leaders will be contesting on the RJD ticket.
The name of the candidate from Sheohar seat is expected to be announced soon.
The Congress candidates for the Grand-Alliance are– Mohhamad Javed from Kishanganj, Tariq Anwar from Katihar, Uday Singh from Purina, Ashok Kumar from Samastipur, former Lok Sabha speaker Meera Kumar from Sasaram, and Neelam Devi from Munger.
AshokKumarAzadChandravashi from Nalanda, UpendraPrasad from Aurangabad will be contesting on Hindustan AwamMorcha tickets while Dr. RajBhushanChoudharyNishad from Muzaffarpur will be contesting from VIP.
The names of Rashtriya Lok Samata Party (RLSP) candidates have not been announced yet. RLSP will be contesting the elections from West Champaran, East Champaran, Ujiyarpur, Karakat, and Jamui.
Speaking to reporters after the presser, the former deputy chief minister had accused the NDA of insulting the people's mandate. He also refuted "rumors" of "break-down" in the grand alliance.
"The way NDA has insulted the mandate of people, those who are anti-constitution and followers of (former RSS chief) Golwalkar and Nathuram Godse, those who have tricked people, farmers, and youth, people will take revenge on them. We are together for people, justice, and secularism. We are together for the country and for Bihar," he said.
"We want to say that grand-alliance is unbreakable. This is an alliance of people's heart. The upcoming challenge is to protect the constitution, institutions. It is a fight of truth vs. lies, justice vs. injustice," he said.
The RJD leader also rejected reports of a rift between him and his elder brother Tej Pratap Yadav. Tej Pratap had announced his resignation from his position as the "patron" of RJD student wing on Thursday.
Taking a dig at Prime Minister Narendra Modi, Tejaswi said, "If he (Modi) is "Chowkidar", people of Bihar are "Thanedar".
The ensuing Lok Sabha elections in Bihar are scheduled to be conducted in all the seven phases from April 11 to May 19.
The results will be announced on May 23.
[source_without_link]ANI[/source_without_link]
Subscribe us on