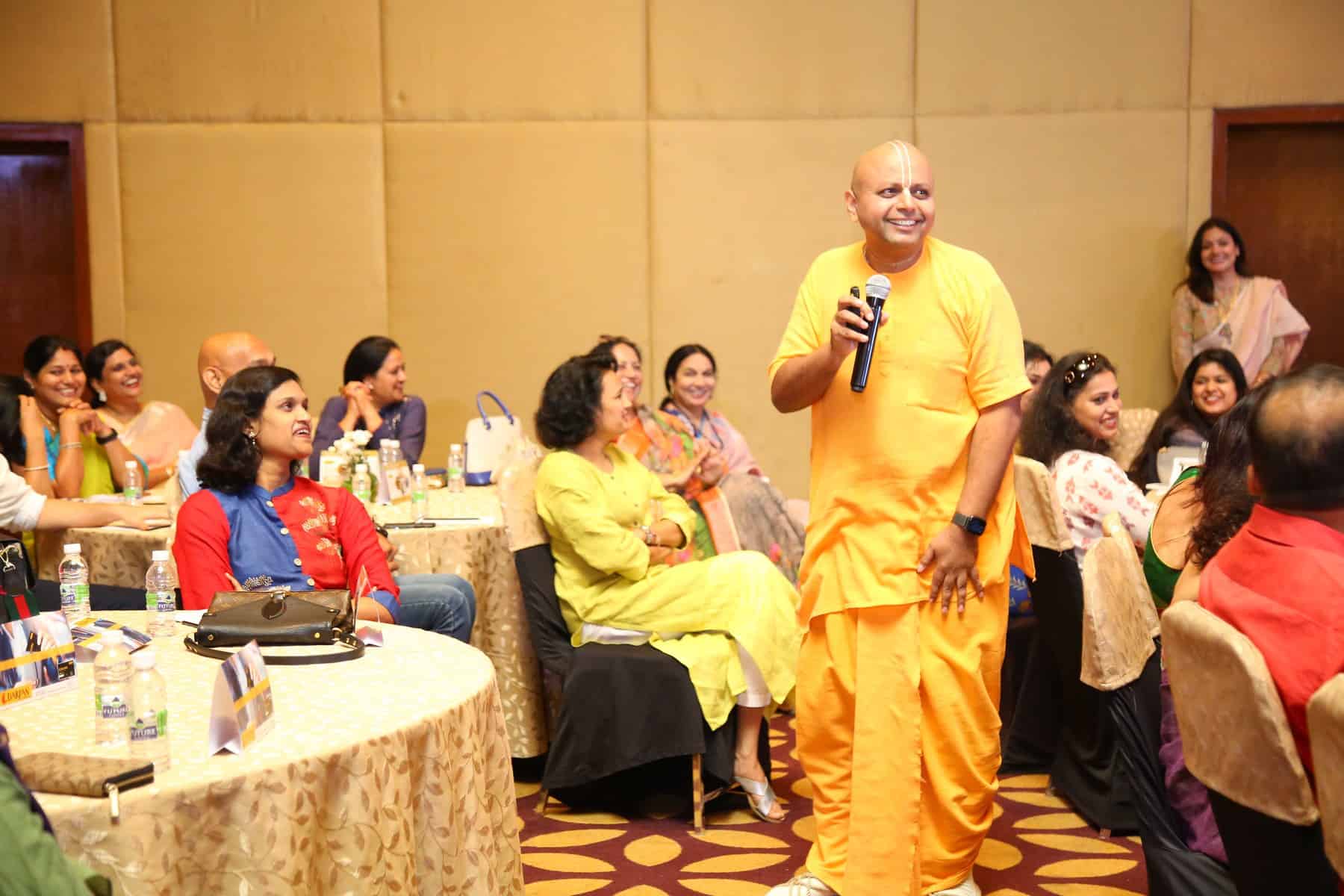 Hyderabad: Gaur Gopal Das International Life Coach, who is known as The Urban Online Monk recently addressed 400 plus FICCI FLO Members and their spouses on " Who Defines You"? No one defines you.. It is you who define yourself. It is 4Cs—Choices, Company, Courage and Consciousness define you told Shri Gaur Gopal Das to his 400 plus audience comprised of FLO (FICCI Ladies Organisation) members and their spouses.
Gaur Gopal Das was in city at the invitation FLO. He addressed those 80 minutes in the topic "Who Defines You".
From the very go of the meeting he electrified the hall with his high energetic performance. Engineering turned Monk, said Indians are known for —Smart in making money, Sparing & Saving and lavishly spending. Every other country is known for some USP (Unique Selling Proposition) And for India, it is incredible India. And what makes it Incredible is its Spiritual Wisdom. And it is this wisdom must define you he told his audience
Cracking jokes and making his audience laugh, occasionally, he said makeup and wisdom when applied make a human feel and look good.
Speaking about millennials being impatient, he told that they need firsthand experience which antidote for their impatience.
We know that there are three fears— fear of death, fear of public speaking and fear of flying. But in this 21st century these fears have swapped with fear of going low on battery, feeble Wi-Fi signal and buffering.
What matters the most in life is it's not the takeoff or landing but the journey in between that matters the most he quipped. And no one looks as good as their profile picture on Facebook and as ugly as their photo in their driving license. Sometimes people are a greater headache than headache itself. People are greater challenge than health challenge he told them.
Speaking further he added, like ECG there is always ups and downs in life. Without ups and downs, static ECG is no life. So ups and downs reaffirm that you are alive.
Earlier while welcoming the gathering Sona Chatwani observed that speakers like Gour Gopal Das are the most sought after and his address will make a huge difference to our members.
Gaur Gopal Das is an International Life Coach, and is known as The Urban Online Monk His talks are so popular. Hewlett Packard engineer turned Indian lifestyle coach Gaur Gopal Das swayed away his audience with his power talk. 
Subscribe us on