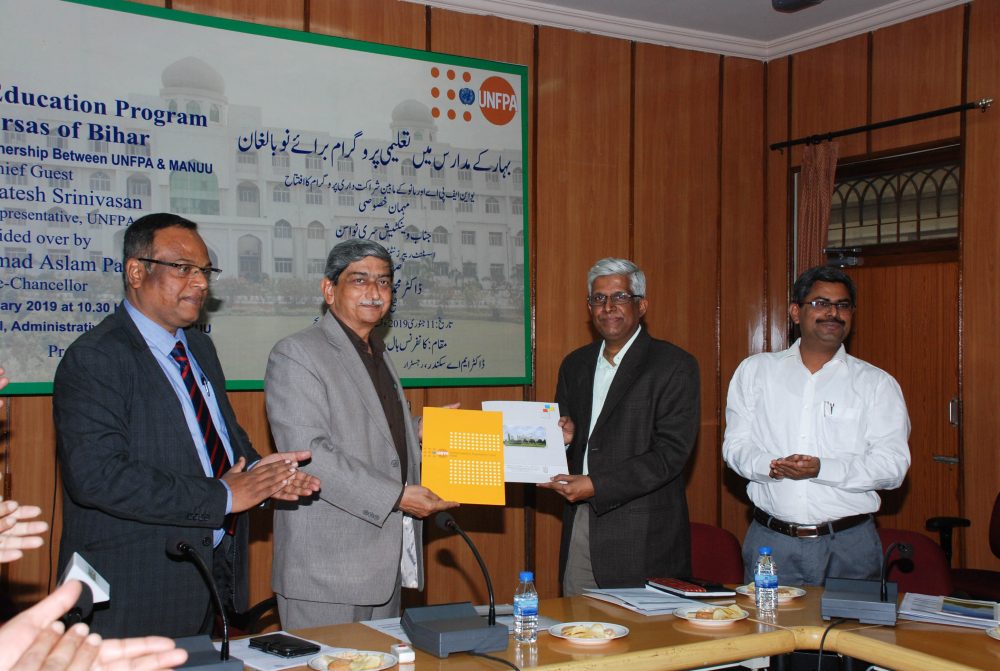 Hyderabad: Maulana Azad National Urdu University today took a leap forward towards its mandate of reaching the unreached by entering into a partnership with United Nations Population Fund (UNFPA) to implement a pilot project on Adolescence Education Program (AEP) in Madrasas of Bihar.
A formal launching ceremony of the project was held today morning at Conference Hall, Administrative Building, MANUU Campus.
Dr. Mohammad Aslam Parvaiz, Vice-Chancellor presided over and exchanged the documents with Mr Venkatesh Srinivasan, Assistant Representative, UNFPA in India.
Addressing the gathering Dr. Aslam Parvaiz described the project as a new beginning for MANUU. The endeavour to empower Madrasa students is part of MANUU's mandate, he said. Collaboration with UNFPA shall continue to streamline the marginalized sections. Inclusion and dissolution is important for smooth functioning of the society, Dr. Aslam Parvaiz remarked.
Mr. Venkatesh Srinivasan expressed the need to engage educational institutions with national bodies and professional organizations. He offered more collaborative ventures to MANUU including a new project on Media with the involvement of Department of Mass Communication and Journalism.
Dr. M A Sikandar, Registrar, described the pilot project as a mission and in complete consonance with University's mandate.
AEP aims at the training, capacity building and lifelong learning of adolescents studying at Wastania level (classes 6-8) Madrasas in four districts of Purnia division namely Kishanganj, Araria, Purnia and Katihar. The Purnia division has a very high concentration of Muslim population and represents one of the highly backward regions of Bihar commonly known as Seemanchal.
Earlier, Dr M. Vanaja, Project Coordinator, welcomed the guests. Prof. Mohd Shahid, Project Director, briefed about the proposal. He submitted that MANUU is keen into the project by the virtue of the exigency to get into such projects to empower Muslim community, more especially, to adolescent Muslims. He explained the demography of Purnia Division which is considered as one of the backward regions of Bihar. Dr Nadeem Noor, UNFPA, Patna, conceptualized the whole situation of marginalized communities in the country and the associated stigma of mainstreaming Indian Muslims. In the context he expressed his views on taking adolescent students of Madarsas to the extent where they can develop life skills for active citizenship.
Prof. Faiz Ahmad, Project Coordinator, proposed the vote of thanks.
Deans, Directors, Heads of the Departments, Faculty Members and Students of MANUU beside the representatives from UNFPA, Jamia Millia Islamia and Bihar State Madrasa Education Board were present.
Subscribe us on