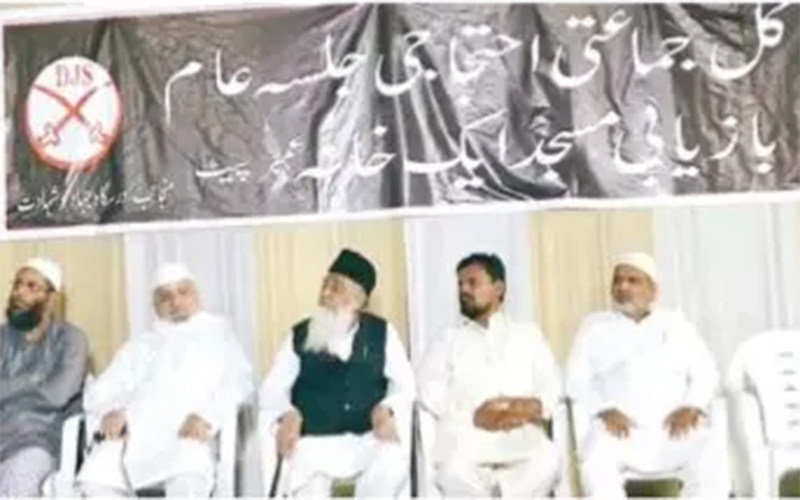 Hyderabad: The demolition of Masjid-Ek-Khana, Amberpet is a deliberate attempt by miscreants. The only remedy is to get permission for offering Namaz at that place. Muslims will not keep quiet till they get permission.
This decision was taken in a meeting attended by the leaders of Muslim parties, Islamic Ulema and Muftis. The meeting was attended by Maulana Mufti Abdul Mughni, President, Jamiatul Ulema, Hyderabad City, Mr. Azharuddin, Secretary, Jamat-e-Islami, Maulana Syed Hamid Husain Shuttari, President Sunni Ulema Board, Maulana Mohammed Naseeruddin, President, Wahdat-e-Islami, Dr. Mohammed Asif Umari, President, Jamiat Ahl-e-Hadith, Maulana Taqui Raza Abedi and others.
The meeting was held at the office of Muslim Shibban, Azampura to discuss the issues arising out of demolition of Masjid-e-Ek Khana.
The Muslim leaders were of the opinion that once a place is assigned for Masjid, its position cannot be changed till Dooms Day.
They decided to take an appointment from CM of Telangana. A representation will also be made to Chief Secretary, Commissioner of GHMC, Home Minister, Mr. Mahmood Ali, Chairman of Wakf Board, Mr. Mohammed Saleem, MPs of Hyderabad and Secunderabad.
They also decided that if no permission is given for offering Namaz, the leaders will offer Namaz at the masjid.
It was also decided that no other course of protest would be started.
Mr. Mohammed Shakeel, Advocate who is pleading the case of the masjid in the High Court informed the leaders that GHMC has not taken any action against the officials who dismantled the masjid.
In the press note issued by the Ulema, it was decided that a booklet would be compiled incorporating the survey report of the Wakf Board, Gazette notification and the letters written to GHMC for distribution among the public.
[source_without_link]Siasat News[/source_without_link]
Subscribe us on