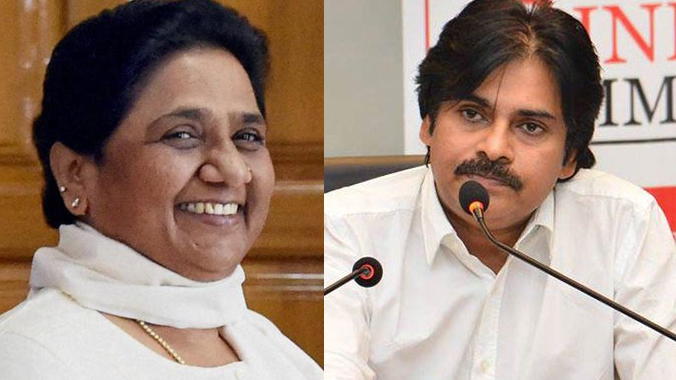 Hyderabad: The Bahujana Samaj Party (BSP) supreme Mayawathi has remarked today that she and her party want to see Pawan Kalyan (Jana Sena chief) as the Chief Minister of Andhra Pradesh.
She said this when Pawan Kalyan called on her at Lucknow today and held discussions with her on the upcoming Lok Sabha and Assembly elections. Mayawathi has also stated that an alliance was finalized with Jana Sena and added that seat sharing has been almost finalized for the general elections to be held next month. She further said "that there is no dispute on seat sharing in Parliamentary or State Assembly elections" and added that she would visit the Telugu state on April 3 and 4 for addressing election rallies.
On his part, pawan Kalyan said they would "like to see Behenji Mayawathi as the Prime Minister of our country, and this is our wish and our ardent desire".
Political observers feel that the remarks of Mayawathi is sure to dampen the spirits of TDP chief and A P Chief Minister N Chandrababu Naidu, who is seeking the support of BSP for his Front at national level. Mayawathi's support and campaign in Andhra Pradesh in favour of Jana Seana is expected to fetch the votes of some sections to Jana Sena in the State, observers feel and this is a set back to Chandrababu Naidu.
[source_without_link]NSS[/source_without_link]
Subscribe us on