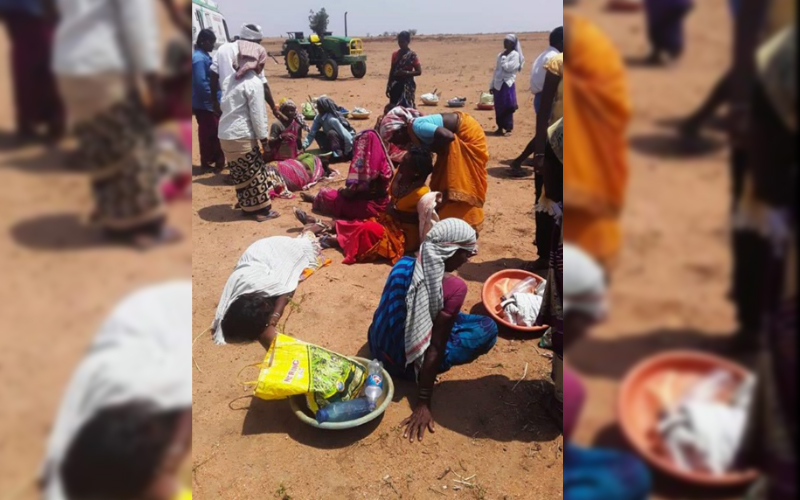 Three separate instances of accidents have been reported so far- one worker has passed away in a road accident on the job, while the other two have passed away due to sunstroke in the field.
"Under the MGNREGA scheme, old men and women are forced to work in the field in the scorching heat of 45 degrees, without any facilities available to them. It raises questions on how the state treats the labor and how they value the worker's lives," said Chakradhar from Telangana who is working with Mahatma Gandhi National Rural Employee Guarantee Act (MGNREGA) employees. Three separate instances have been reported from Nagarkurnool, Telangana where three MGNREGA workers have died and eight workers are critical.
Explaining the instances, he said, "In the first case, twenty workers predominantly women, met with an accident in Addeman village, Bijinapalli manual yesterday, May 28, as they fell off a tractor in their job. It has been reported that one woman has died while many are critical."
In the other two cases, two elderly men, a Dalit and a Muslim man passed away today evening after suffering from sunstrokes while working in their fields yesterday.
Following the instances, serious questions are being raised about facilities available to MGNREGA workers in their workplace and the larger question of their social security is assuming renewed significance. Chakradhar added, "The workers on the field do not even have water. They try to take refuge under plastic sheets to escape the heat and cloth is also not available to them. It also raises serious questions about the social security of workers. Those working in the field are predominantly elderly men and women, who do not have access to pensions or any welfare schemes and are therefore forced to work under the most pathetic conditions."
Previously in April, negligence had caused the death of 10 MGNREGA workers in Telangana, The 10 women MGNREGA workers were resting in the shade of a mud mound, which collapsed and killed them on April 10. Chakradhar added, "In order to ensure that the families get the adequate compensation we have to fight a long battle. It is an uphill task, primarily due to the silence of the labor department when it comes to the questions of the government schemes. The compensation of workers is being viewed as something granted to them out of instead of it is their right."
[source_with_link url="https://www.newsclick.in/MGNREGA-Mishaps-Telangana-Three-Workers-Dead"]News Click[/source_with_link]
Subscribe us on