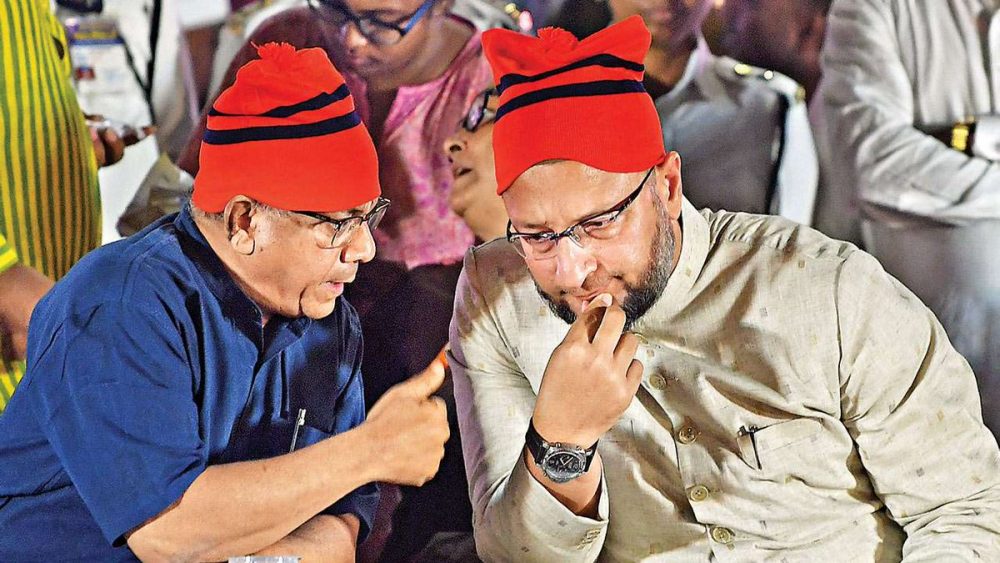 Mumbai: In the recent Lok Sabha elections the opposition parties contested with the sole objective of routing BJP from power and dethroning Narendra Modi. For this purpose, various parties entered into a political alliance in different states. However, their strategies had some loopholes which directly benefited BJP and its allies. Muslim-Dalit alliance was given importance, however, in Maharashtra the effort of Muslim-Dalit alliance boomeranged and split their votes, directly benefiting BJP.
In Maharashtra, the candidates of Vanchit Bahujan Aghadi (VBA) tremendously benefited the NDA candidates and the VBA candidates proved to be vote splitters thus ensuring the massive victory of BJP and Shiv Sena.
The Vanchit Bahujan Aghadi was floated in March 2018. Vanchit Bahujan Aghadi (VBA)-Majlis Ittehadul Muslimeen (MIM) alliance fielded its candidates on 48 seats of which Aurangabad seat was grabbed by their candidate Imtiyaz Jaleel while the Prakash Ambedkar the founder of the VBA contested from two seats and lost both.
Looking at the result it has become clear that VBA and MIM alliance split Muslim votes which ensured a big win for BJP and Shiv Sena alliance in Maharashtra.
Though the VBA-MIM alliance got 40,13,000 votes in the Lok Sabha elections the alliance could secure only one seat.
A noted English daily in its analysis proved that had the VBA candidates not contested on the 9 seats, the victory of secular candidates was sure on them and saffron candidates could have faced defeat.
DNA India observed the Vanchit Bahujan Aghadi (VBA) of Dalit leader Prakash Ambedkar and AIMIM leader Asaduddin Owaisi may have damaged the prospects of Congress-NCP alliance in eight Lok Sabha seats in Maharashtra, the victory margins of Shiv Sena-BJP candidates show.
The VBA got 92,139 votes, in Beed, possibly cutting into votes of NCP candidate who lost to BJP's Pritam Munde. The VBA candidate got 1,72,627 votes, in Buldhana, possibly resulting in the NCP's loss where the victory margin of the winning Shiv Sena candidate was 1,33,287 votes. VBA polled 1,11,468 votes in Gadchiroli-Chimur, where the winning margin of the BJP candidate was 77,526 votes.
VBA got 1,23,419 votes in Hatkanagale while sitting MP Raju Shetti, who had aligned with the Congress, lost by 96,039 votes. The VBA got 1,74,051 votes in Hingoli, where the Congress candidate lost by 2,77,856 votes. VBA vote share was 1,12,255 in Latur, while the Congress candidate lost by 2,89,111 votes. VBA got 1,66,196 votes in Nanded, while state Congress president and sitting MP Ashok Chavan lost by around 40,000 votes.
Prakash Ambedkar polled 1,70,007 votes while Sushil Kumar Shinde of the Congress lost to the BJP candidate by 1,58,08 votes in Solapur. VBA got 3,00,234 votes in Sangli, where Swabhimani Shetkari Sanghtana candidate Vishal Patil, an ally of the Congress, lost by 1,64,352 votes to his BJP rival.
Though VBA-MIM alliance could grab Aurangabad seat it damaged NCP-Congress alliance in Nanded, Osmanabad, Akola, Gadcharoli, Solapur.
If the Dalits and Muslims of Maharashtra had unitedly voted against BJP and saffron parties, it would have ensured the victory of secular party candidates.
Below is the comparison between vote and seat share in Maharastra State
Subscribe us on