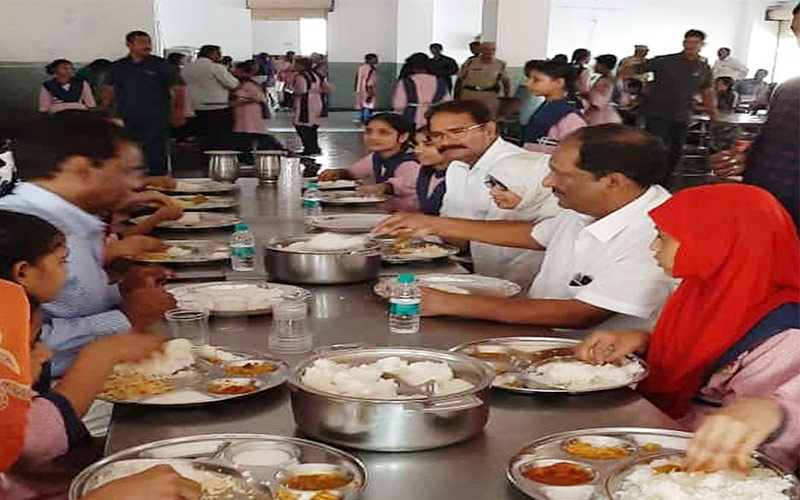 Hyderabad: Minister for Welfare, Government of Telangana, Koppula Eshwar and AK Khan, Advisor to Govt. of Telangana, Minorities Welfare & President TMREIS has made a surprise visit to TMRS Sanath Nagar Boys located at Ameerpet and TMR School Khairatabad Girls at Basheerbagh on Wednesday.
The Minister interacted with students besides witnessed a wide range of curricular and innovative student empowerment programmes initiated by TMREIS.
During his visit, the minister inspected the classrooms, dormitories, wellness centre, dining hall and other facilities.
He has lauded the quality of education and hostel facilities extended to the students of TMREIS. He has also appreciated the principal and the school teachers for their role for all-round development of TMREIS students.
He also directed the teachers to identify slow learners and focus on their academics. He further added that the students must take advantage of these residential schools and get more than 60 per cent marks as they are associated 24×7 with the teachers.
"Every year thousands of students are competing for admission in residential schools which indicate the confidence of parents and students in the government residential schools in the state", the remarked.
The schools involve every student in summer camps and other empowerment programmes for overall development.
The minister also had lunch with the student which was cooked as per menu. All the schools are provided with a common menu card for breakfast, lunch and dinner, which include non-vegetarian food, milk, fine rice and nutritional supplement. He thanked the Chief Minister K Chandrashekhar Rao for sanctioning a large number of residential school to minorities in an endeavor to make "Bangaru Telangana".
Subscribe us on