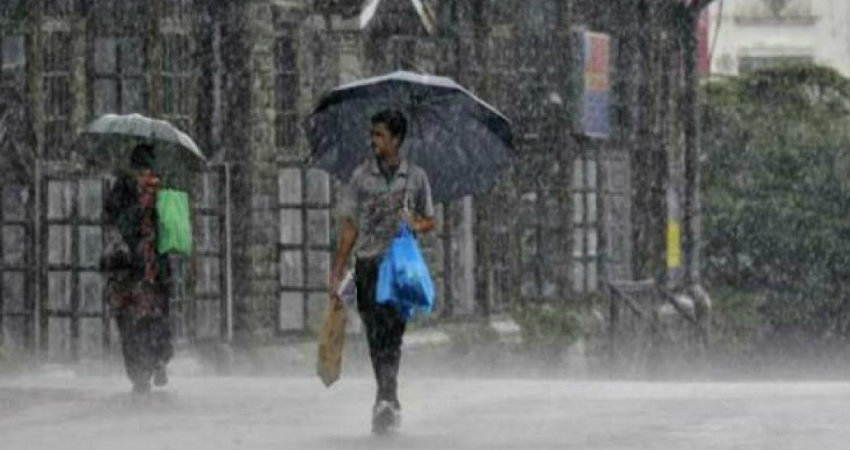 Hyderabad: Under the influence of cyclonic circulation over north Odisha & adjoining areas of Gangetic WestBengal and Jharkhand, a Low-Pressure Area has formed over East Madhya Pradesh & adjoining Chhattisgarh. Associated upper air cyclonic circulation extends up to 5.8 km above mean sea level, tilting southwards with height.
 The trough from south Rajasthan to Odisha now runs from south Gujarat & adjoining north Maharashtra to interior Odisha across the cyclonic circulation associated with the Low-Pressure Area over East Madhya Pradesh & adjoining Chhattisgarh and extends between 4.5 &  7.6 km above mean sea level tilting southwards with height.   A fresh Low-Pressure Area is likely to form over northeast Bay of Bengal & neighborhood around 4th August.
Under its influence, the Met Department warned that heavy to very heavy rain is very likely to occur at isolated places over Telangana tomorrow. Meanwhile Light to moderate rain or Thundershowers is very likely to occur at many places over Telangana. The Met Department forecasted light to moderate rain or thundershowers to occur at many places over Telangana for the next few days.
In Hyderabad and its neighborhood, Generally cloudy sky with one or two spells of rain or thundershowers are likely and the temperatures will remain at 27 and 23 degrees Celsius.
Giving the weather summary report the Met Department said that Southwest Monsoon has been active over Telangana. Extremely heavy rain occurred at isolated places in the district of Kumaran Bheem, Very heavy rain
occurred at isolated places in the district of Adilabad and heavy rain occurred
at isolated places in the districts of Mancherial, Kamareddy, and Nirmal of
Telangana. Rain occurred at Most places over Telangana.
Meanwhile, the Sky met has forecasted active monsoon likely over Nizamabad, Adilabad, and Karimnagar on  Wednesday.
The Sky met informed that in the past 24 hours, Telangana has received light to moderate rains with isolated heavy spells. As on July 29, Telangana is rain deficient by 21%. Also, in the last 24 hours, Adilabad recorded heavy rains of 120 mm, Nizamabad 35 mm, Mandek 26 mm,Ramagundam 25 mm, Hanamkonda 12 mm and Hyderabad 7 mm.
In fact, the northern districts of Telangana have been receiving good rains for the last many days, particularly the Nizamabad, Adilabad and Karimnagar region. However, rain activities are less over South Hyderabad. This is because the Cyclonic Circulation which is over Odisha and Chhattisgarh is only impacting the northern districts of the state.
The weather experts have to say that, moderate to heavy rains in isolated pockets of North Telangana will be a sight today and tomorrow. Post this, activities will slow down and isolated to scattered rainfall activities will be seen.
Skymet experts forecast that another spell of good rains can be seen between August 4 to August 6. During this time also, the northern districts will get to see decent rains whereas the southern parts will once again miss their chance and will be nearly rain deprived.
Subscribe us on