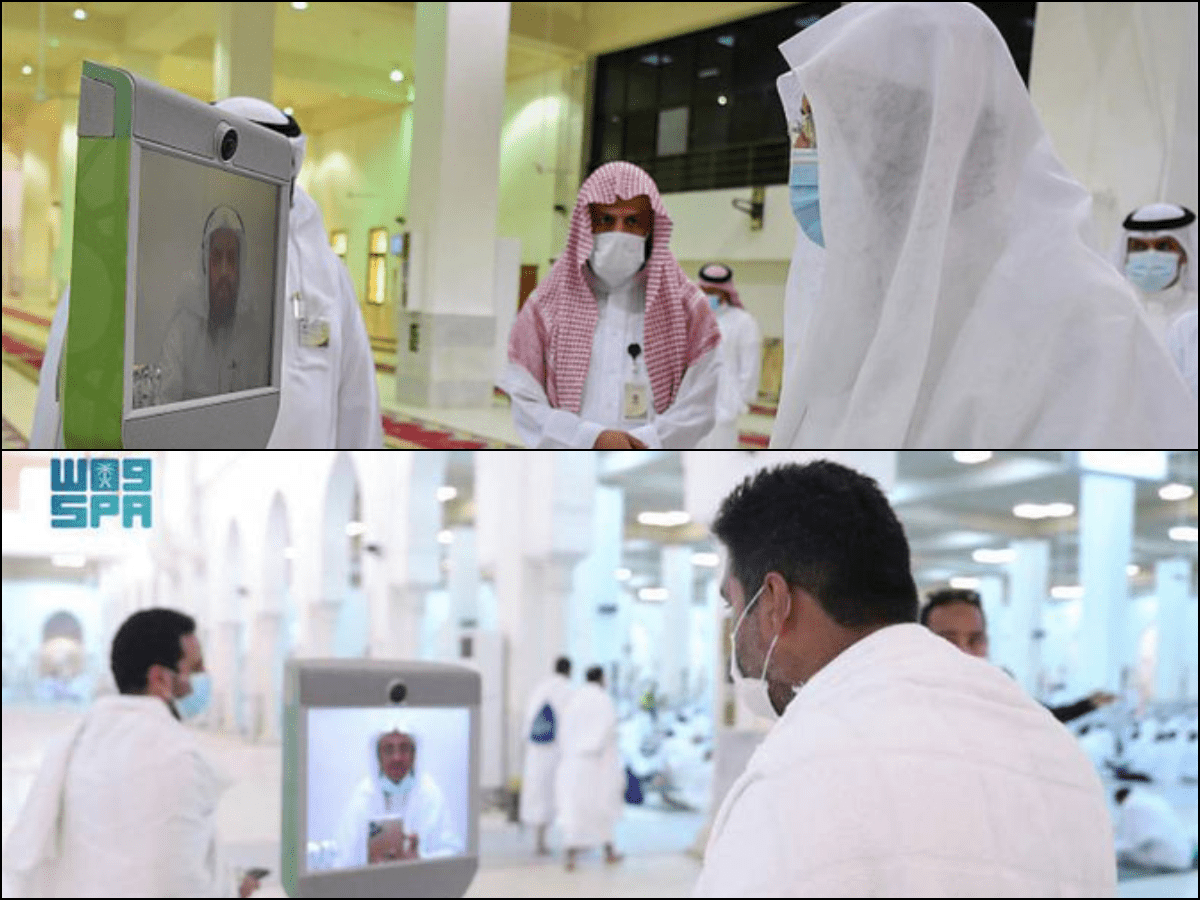 Pilgrims visiting Makkah's Grand Mosque can now get guidance from new four-wheeled robot guides. The Kingdom of Saudi Arabia has launched artificial intelligence (AI) robot guides at the Grand Mosque in the holy city of Makkah, which will help answer visitor questions and offer guidance on obligatory rituals, the Saudi Press Agency (SPA) reported.
There is the option of adding instant translation, remote communication with sheiks, and setting directives in different languages. For ease of communication, the remote-controlled robot supports 11 languages including Arabic, English, French, Russian, Persian, Turkish, Chinese, Bengali, and Hausa.
The General Presidency for the Affairs of the Two Holy Mosques said the initiative was aimed at developing and revolutionizing the level of its services.
The new robot guides are not the only automated assistance at the Grand Mosque in Makkah.
The Grand Mosque also has automated cleaning robots to sterilize the premises to help in preventing the spread of the COVID-19 pandemic. Other robots roam the site between 8 a.m. to 5 p.m. to distribute Zamzam holy water bottled from the well under the mosque. Both work without any human intervention for eight hours using smart systems.
The Smart Robot, which weighs 300 kilograms, can carry 68.14 liters of water for cleaning for four hours. It can move at speeds of up to 5 kilometers per hour, it uses cameras and overhead sensors to identify the layouts and avoid colliding with people and obstacles.
The presidency aims to help educate Muslims around the world on using new technologies – including artificial intelligence and e-learning.
For example, the recently launched Smart Quran was launched to help those with visual disabilities read the text in Braille.
Muslims from around the world can also earn a certification for participating in initiatives such as the Maqra' Al-Haramayn, the Two Holy Mosques Reader, that teaches the Quran.
The e-lessons take place from the Grand Mosque in Makkah and are available in six languages, including Urdu, English, and Hausa.
The presidency has also launched the Smart Qur'an, an e-device for those with visual disabilities so they can read the Qur'an in Braille.
Subscribe us on