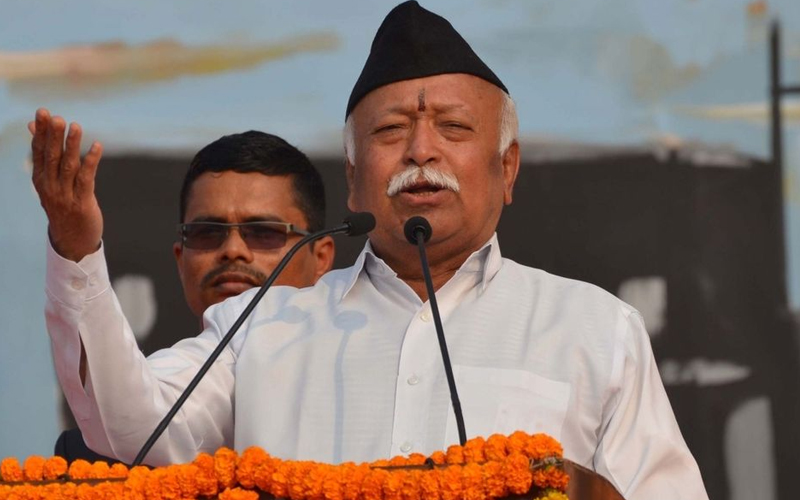 BHUBANESWAR: Rashtriya Swayamsevak Sangh (RSS) chief Mohan Bhagwat on Saturday said the Sangh has no hatred towards anyone and that everyone should move together in the society to transform the country towards the better.
Asserting that the Muslims in India are the "happiest", the RSS supremo while addressing a gathering of intellectuals ahead of Akhil Bharatiya Karyakari Mandal said because of this unique feeling of oneness, "the Parsis community is well protected in India and the happiest Muslim in the world is also in India and why this is possible because we are Hindus."
"Maare-maare Yahudi (Jews) firte they akela Bharat hai jahan unko ashray mila. Parsion (Parsis) ki puja aur mool dharma sukrakshit kewal Bharat mein hai. Vishwa mein sarvadhik sukhi Musalman, Bharat mein milega. Ye kyun hai? Kyunki hum Hindu hain…"
During a nine-day tour of Odisha, he further said, "Hindu" is not a name of a language, province or country but a culture, which is the legacy of all people living in India. "
Bharat (India) is a Hindu Rashtra (nation)… and Hindu is not the name of any puja (prayer), language or state but it's a way of living (Sanskriti)…"
Making a similar statement, RSS chief had, earlier this week, said that the vision of the Sangh regarding the identity of the nation is "clear, well-thought-of and firm" that Bharat is "Hindustan, Hindu Rashtra".
Subscribe us on