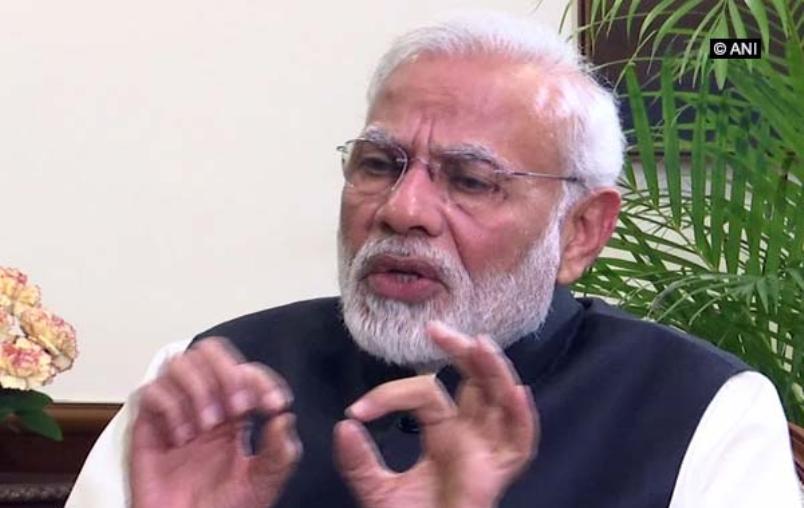 NEW DELHI: BJP leaders wear their love for PM Modi on their sleeve and — at times — on their chest. The snap of the BJP leaders and supportes in the hoodies have gone viral on the social networking sites.
On Monday, January 8, (BJP) MP and chief whip in Lok Sabha Anurag Thakur made a fashion statement by adorning a charcoal-grey hoodie that screamed "NaMo Again" printed on it in saffron.
I am wearing mine 😎

Where is your hoodie ?@KirenRijiju @Ra_THORe@ManojTiwariMP@SuPriyoBabul@sarbanandsonwal@Dev_Fadnavis@jairamthakurbjp@ChouhanShivraj@drramansingh@vijayrupanibjp@myogiadityanath

Your Turn to Wear It, Tweet & Tag 🤗

Buy it here @namomerchandise pic.twitter.com/Kwh5mCjexu

— Anurag Thakur (@ianuragthakur) January 8, 2019
The 44-year-old MP took to his micro blogging site and sent out a second tweet his colleagues and supporters to don a similar hoodie and post about it.
"I am wearing mine. Where is your hoodie?" Everybody from Uttar Pradesh Chief Minister Yogi Adityanath to Union Minister Kiren Rijiju were hashtagged this time. Several party supporters reacted to the tweet, posting photographs of themselves posing in the "NaMo Again" sweatshirt.
Kiren Rijuji, Anurag Thakur, Rajyavardhan Rathore, Piyush Goyal, and Babul Supriyo in a selfie with NaMo Again Hoodie!!
Where is your Hoodie?
Shop Now on https://t.co/6Czw3BXYBr or Download the NaMo App at https://t.co/TQbP2KsOFF pic.twitter.com/6PIrywnRQA

— NaMo Merchandise (@namomerchandise) January 11, 2019
He received a lot of appreciation on social media and a retweet from PM Modi himself.
"Looking Good" – tweeted the Prime Minister Modi said.
Looking good, @ianuragthakur! https://t.co/mT28nAvH8d

— Narendra Modi (@narendramodi) January 8, 2019
NaMo Again. Because leadership matters. Because India matters.

Stand up for what you know is right. Get your NaMo merchandise today from @namomerchandise.@ianuragthakur @SuPriyoBabul @PiyushGoyal @KirenRijiju pic.twitter.com/6MEekIWg3m

— Col Rajyavardhan Rathore (@Ra_THORe) January 11, 2019
NaMo Merchandise also jumped in to make the most of the hoodie challenge. "NaMo merchandise goes to Parliament! Lok Sabha MP @ianuragthakur wears a NaMo Again hoodie. Get your merchandise too, what are you waiting for!" it tweeted.
Soon, BJP supporters and party workers took to Twitter to share pictures of themselves wearing the same hoodie. Have a look!
मैंने तो पहना हैं !
आपने पहना की नहीं ??
आप भी पहनियें एक संकल्प के साथ #NamoAgain !
2019 में श्री @narendramodi जी पुनः भारत के प्रधानमंत्री के रूप में शपथ लें।
जय हिंद। @ChouhanShivraj @Ra_THORe @KailashOnline @MPRakeshSingh @nstomar @RadhamohanBJP @arjunrammeghwal pic.twitter.com/r4qvc6FIjM

— TC Gehlot Office (@TcGehlotOffice) January 8, 2019
नमो अगेन,फिर से मोदी सरकार, pic.twitter.com/L1AOorKGRJ

— Nandesh Swami (@NandeshSwami) January 11, 2019
Got my mug @namomerchandise time for #ChaiPeCharcha@narendramodi Ji pic.twitter.com/P3zu7dOepW

— Jaganathan (@jaggu916) January 10, 2019
#NaMoAgain@namomerchandise
#FridayFeeling pic.twitter.com/P4jjafBJOC

— Kapil Parmar 🇮🇳 (@KapilParmar) January 11, 2019
Subscribe us on