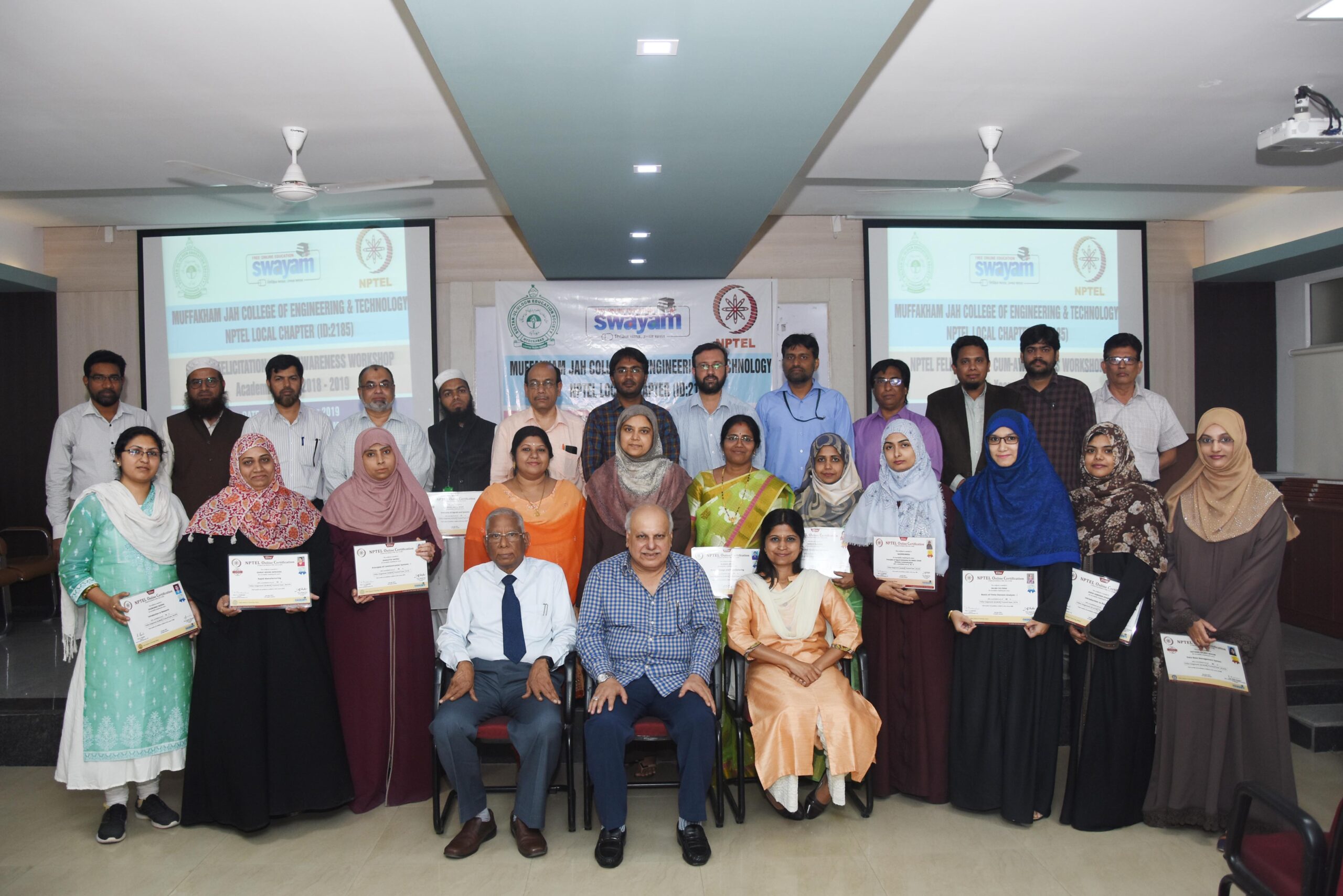 Hyderabad: Muffakham Jah College of Engineering and Technology (MJCET), Banjara Hills organised Annual Event of NPTEL (National Programme on Technical Enhanced Learning) MJCET Local Chapter (LC) on Wednesday.
The All India Council for Technical Education (AICTE) has approved advanced NPTEL online certification programmes for Faculty Development Programme (FDP) for engineering college faculty. NPTEL offers a wide variety of courses and faculty can also de courses from other discipline. Courses on of cutting edge technology such as Block Chain Management, Deep Learning, IoT and Smart Cities would also be offered.
NPTEL MJCET LC was established on 12th September 2018. In the academic year 2018-19, total 95 faculty and students were successfully completed this certification courses in various disciplines. Out of which, 8 secured Gold medals and 19 silver medals were bagged by faculty and students. Maximum number of toppers(Four Toppers) in their respective courses belonged Civil Engineering Department and Highest number of Gold medals(Four Gold medals) were sealed by Information Technology Department.
Under special category award of Local Chapter improvement ranking outside Top 100, MJCET ranked 1st position across India.
Dr. Mousmi Ajay Chaurasia, Prof. & Head, Information Technology dept and Chairman of NPTEL MJCET LC was awarded as Active SPOC for her imperative role during Jan-April 2019.
Janab Zafar Javeed Sahab congratulated Dr. Mousmi Ajay Chaurasiaand her team for their proactive role in facilitating faculty members during the online courses and to achieve the height of success in a short span of time.
Dr. Basheer Ahmed, Advisor-cum-Director, MJCET said that AICTE had a tie up with NPTEL to offer online FDP courses for engineering college faculty members. He thanked Zafar Javeed for his kind approval for reimbursement of NPTEL enrolment fee for all faculty members of MJCET. He also advised the faculty members to actively enrol in these online courses, to keep yourself updated about the latest trends and subjects in your respective fields of engineering, and aim for certification with Gold or at least Silver Category.
On behalf of NPTEL MJCET LC, Dr. Mousmi Ajay Chaurasia thanked Zafar Javeed Sahab to provide constant support and being a strong pillar for MJCET. He expressed her gratitude to Dr. Basheer Ahmed to encouragement and his full support towards MJCET faculty and students.
Mr. Asrar Ahmed, Convenor, NPTEL MJCET LC concluded the event with vote of Thanks.
Subscribe us on