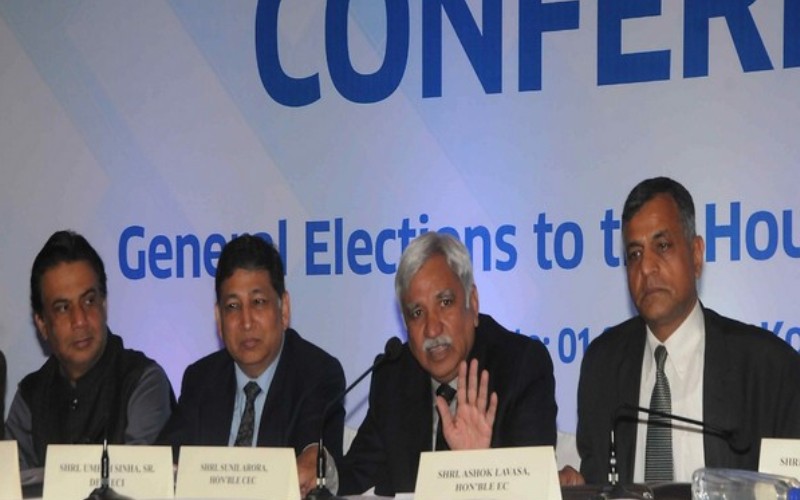 Kolkata: Chief election commissioner Sunil Arora, who reviewed poll preparedness in West Bengal on Friday, said election observers will ensure that money and muscle power is not used to manipulate voters.
Addressing a press conference here on Friday, Arora talked about devising an intensive action plan to instill confidence in all stakeholders.
"Political parties have voiced concerns regarding manipulation of poll results and inappropriate law and order situation. However, we assure that we will heighten security and ensure a conducive environment during polls," he said.
Election Commission conducted a meeting with collectors, commissioners of police, superintendents of police and coordinators of central forces on Thursday and followed it up on Friday with an in-depth discussion with governement regulatory agencies, the excise commissioner and other officials.
"Many parties have asked us to ensure free and fair elections in the state, raised concerns about law and order and demanded foolproof security arrangements. Some parties demanded that commission may consider appointing special observers outside the state and also asked to ensure forces to do area domination even in remote locations," he said.
"They also asked to take steps to ensure no manipulation, verify licensed arms, and take effective action against unlicensed arms. Some parties demanded polling to be scheduled simultaneously in bordering states with security heightened at international borders," Arora said.
Arora also said all steps should be taken so that voters can exercise their rights without fear.
The CEC also met with representatives of persons with disabilities regarding facilities to be provided at polling stations.
"During Lok Sabha polls, accessibility observers will be appointed. The commission will appoint observers for impartial monitoring," he said.
Arora noted that all key measures will be taken including the provision of sanitary facilities and drinking water.
A total of 78,799 polling stations and 53,701 polling locations have been identified, he added.
Arora also appealed to voters to use the cVIGIL mobile app to report discrepancies or any incidents of violence during polling.
The meeting comes less than a week after vehicles used for ferrying people to BJP chief Amit Shah's public rally in East Midnapore district were vandalised by miscreants outside the venue.
Police said miscreants lobbed stones on the vehicles and also torched some of them.
Owing to the violence, a BJP delegation reportedly met the EC recently to raise the incidents of violence, which, they claim, were orchestrated by the Trinamool Congress (TMC).
[source_without_link]ANI[/source_without_link]
Subscribe us on