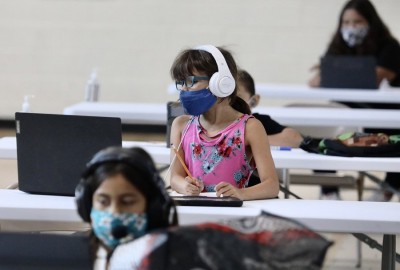 Geneva, Nov 10 : In a new report, the Unicef has said that more than 97 per cent of students in Latin America and the Caribbean were still out of classrooms as the raging Covid-19 pandemic has put education on hold.
Since the onset of the pandemic earlier this year, children in Latin American and the Caribbean have already lost on average four times more days of schooling (174) compared to the rest of the world, the report released on Monday said.
In a region with over 11 million Covid-19 cases so far, most students were now at risk of missing out on an entire school year, it said.
While schools are gradually reopening in several parts of the world, the vast majority of classrooms are still closed across the region. Over one-third of all countries in Latin America and the Caribbean have yet to set a date for school reopening, according to the report.
The report also revealed that the pandemic has further widened the education gaps between rich and poor families in the region.
According to new Unicef data, the percentage of children not receiving any form of education across the region has soared dramatically, from 4 to 18 per cent in the past few months.
UN projections revealed that Covid-19 may push up to 3 million additional children out of school in Latin America and the Caribbean.
"Across Latin America and the Caribbean, millions of the most vulnerable students may not return to school," Bernt Aasen, Unicef Regional Director, a.i, for Latin America and the Caribbean, was quoted as saying in the report.
"For those without computers, without internet, or even without a place to study, learning from home has become a daunting challenge.
"It is not too late to build better, more resilient, more inclusive education systems than before the pandemic. Right now, it's urgent to get children back into schools, guided by public health considerations," Aasen added.
Disclaimer: This story is auto-generated from IANS service.
Subscribe us on