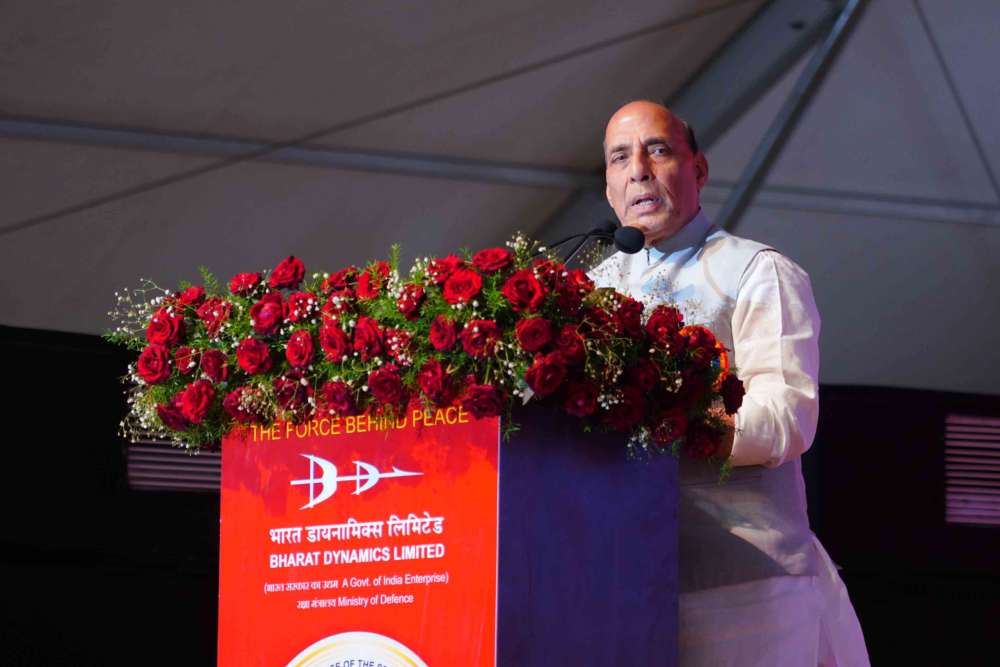 Hyderabad: The names Pakistan has given to its various missiles system denote its aggressive posturing towards India. On the other hand, India demonstrates its peaceful intentions through the names it has chosen for its missiles, said Minister Rajnath Singh today.
Rajnath Singh speaking at Golden Jubilee Celebrations recounted the names of Pakistan's missiles such as Babar, Ghouri, and Ghaznavi. The three Muslim kings who had invaded India. Whereas the names of Indian missiles indicate peace such as Prithvi (earth), Akash (Sky), and Agni (fire). Indian army works for peace and stability. Even its defence preparedness is towards the three points of Balance, Restraint and Destruction when needed."
The Golden Jubilee celebration was graced by Dr. Sateesh Reddy, Secretary, Department of Defence Research and Development and Chairman, DRDO; Vice Chief of Air Staff Air Marshal RKS Bhadauria; Commodore Siddharth Mishra, CMD, BDL; Gargi Kaul, Secretary Defence Finance; Amit Sahay, Joint Secretary, Ministry of Defence and others were present on the occasion.
Armed forces modernization is India's priority and we are going ahead with it. We want to fulfil our every need through indigenization. BDL has a part to play on this. Terrorism is neither good nor bad, but it is just terrorism. We have shown to the world that we have zero tolerance towards terrorism. Weapon power has contributed a lot, Minister said.
For defence capability and defence preparedness, we need more indigenous production. We want to take India to a good position in defence exports by 2025. BDL has a big part to play, Rajnath Singh added.
Commodore Siddharth Mishra, Chief Managing Director, BDL addressing the gathering said that BDL has concentrated on indigenization for bringing out effective missile with a low cost with own R&D. We are working on 'Amogh' the missile with our own R&D facility. We have prepared missiles like Prithvi and Aakash as part of integrated Missile Development Program with DRDO. Along with these works, our focus is on indigenization. We have indigenized 75 to 90 per cent weapon systems procured from France, Russia and Italy, he said.
Apart from these, there are plans to indigenize the highly-priced top 20 components within two-three years. MoU has been signed with T-Hub for defence-related innovative products and with IIIT Hyderabad for defence equipment with artificial intelligence under Innovation for Defence Excellence scheme, he added.
Dr. Sateesh Reddy, Secretary, Department of Defence Research and Development and Chairman, DRDO in his address reminisced about his association with BDL said that BDL has a capacity of producing 60 missiles per month and we are ready to produce 100 missiles per month.
To commemorate the vision of Bharat Ratna Dr APJ Abdul Kalam, a statue of Dr Kalam was unveiled by the Defence Minister at BDL Company's premises at Kanchanbagh. 
A commemorative stamp on BDL was released by the Defence Minister as a part of the Golden Jubilee Celebrations of the Company.
The Medium Range Surface-to-Air-Missile (MR SAM) was handed over to the Indian Air Force. The Vice Chief of Air Staff Air Marshal RKS Bhadauria, PVSM, AVSM, VM, ADC received the MRSAM on behalf of the Indian Air Force.
"Veer Naris" from the State of Telangana and Andhra Pradesh were felicitated by Rajnath Singh. "Veer Naris", was invited to BDL on occasion of the Golden Jubilee Celebrations of the Company. Later they were felicitated as a part of the Corporate Social Responsibility initiative of BDL.
The Minister also inaugurated the Rain Water Harvesting facility named as "Jal Nidhi" at the upcoming Unit of BDL at Ibrahimpatnam as a part of Jal-Shakti Abhiyan of the Government of India, which is expected to help in the storage of 24 Lakh litres of water and increasing the level of underground water levels.
A 5 MW Solar Power Plant was also unveiled by the Raksha Mantri at BDL, Ibrahimpatnam, which demonstrates BDL's commitment towards environment protection.
Authored by Mohammed Hussain
mohammedhussain.reporter@gmail.com
Subscribe us on