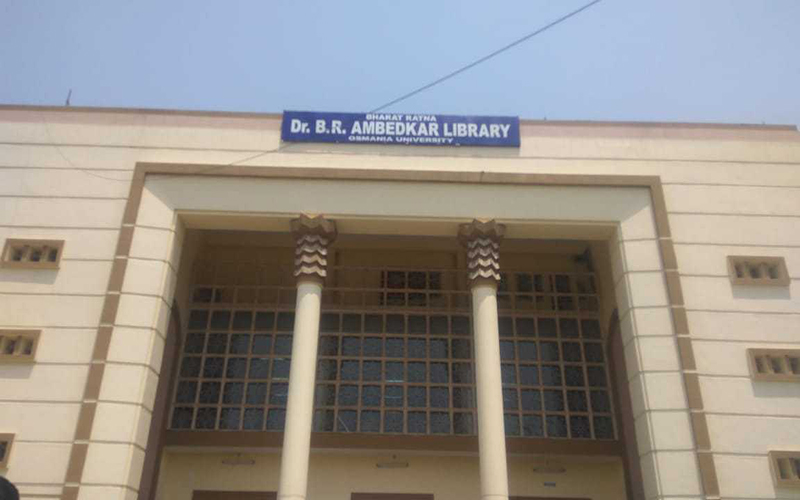 Hyderabad: There was a silent protest against the honoring gimmick played by V C Osmania university by just replacing the name of the founder HEH Mir Osman Ali Khan with Dr Baba sahib Ambedkar which is against the Moral code of conduct which is in force and the inappropriate hasty decision taken by the OU executive committee without the knowledge of the education sect who is a member of this committee. The protest letters were already sent to VC Chancellor OU. There was a group of intellectuals of Osmania Alumini who did a silent protest at the library including Me, SANJAY Gadale, Dr Iqbal jaweed, Mr Mukheed MAK advocate and many more.
Dr Baba sahib Ambedkar is a gigantic personality for us Indiana, he would not have approved this type of honours by replacing somebody's honour. He needs something which goes with his calibre and the authorities should think of something afresh to honour him.
Press Release:
Changing the name of Osmania University Library and Peaceful Protest Reg.
On 11th of this month, we saw a Press Release stating that one Mr Thorat is flying down from Delhi to change the name of The Osmania University Library Building that bears the plaque of The then President of India Prof. Dr.Radhakrishnan. the date was 14th. There was no time for us to respond. The millions of Alumni all over the world who had spent years on the campus and loved the library were shocked beyond belief. It was a Bolt from the Blue. And all this is done in the name of the Architect of the Indian Constitution Sri B.R. Ambedkar.
Knowing Ambedkarji and his teachings it is obvious he would have never wanted it this way.
Why would he want his name on someone else's property?
He is neither immoral nor cheap. The library building some months back had already been defaced by graffiti on the building – B.R. Ambedkar Library. How could the miscreants do that? Pictures are there. Instead of rusticating the erring miscreants The Vice-Chancellor chose to patronize them and moved the council to consider a name change. He should have blocked the wrong thing then and there. But he moved it forward. Shall we call it complicity?
If you love Ambedkarji and are sincere about it then do something better and modern for him.
Acquire say 50 to hundred acres a little away from a City and make a great Center for Ambedkar so the world would come to see and benefit from.
Something like that benefits the economy and generates employment. When people do nothing and have nothing to show, to cover up for it, take other's deeds and achievements and paste their own name on it. It is immoral, illegal and cheap.
They are using Ambedkarji's name to further their own hidden agenda. There is already a grandiose Ambedkar Open University to commemorate him right here in Jubilee Hills. Where was the need to steal something from Osmania University? It is totally needless and very painful for the people of Telangana. It looks like some political appeasement of the SC and ST who have reservations for 70 years. We had no problem with that although the locals suffered a lot. Ambedkar is as much ours as theirs. Would Ambedkar himself like such actions? No never. He says follow the constitution but this is not constitutional you are hurting the feelings of a large number of citizens.
Now we wrote to VC and all who mattered. Except the VC all were shocked and were unanimous in expressing their own anguish of such a needless action that will only bring pain and a bad name for our country. What is not right is not right however much government support it may enjoy and the force they may use. Our efforts did not bear fruits. They chose the timing so carefully that the court was on vacation and a chunk of Hyderabad population fasts this month. It was all too clandestinely and carefully planned.
The only option for us was to exercise a peaceful protest at the venue as it happens and most peacefully we assembled at the library but we were not even allowed to walk up the ramp leading up to the library. We were all detained right there as you can see the pictures with heavy police force. Second shock. We pleaded to be heard and a few wanted to meet the VC and other officials. But no way. The Vice-Chancellor has many questions to answer. If he cannot set things right we better find a new VC who will have the intellect to take the right decisions.
We were never heard let me recall a few names who were present like Sanjay Gadhalay, MAK Mukheed, Dr. Iqbal Javed, Eng. M.A.Majid, Nadir Yar Khan, M. Minhaj, M. Ismail Ali, Hashmat A. Khan, Abdullah Faraz, Hanif.
We have no desire to leave this high handed and needless action as is. We are going to fight at every level be it legal, media, social or political.
Subscribe us on