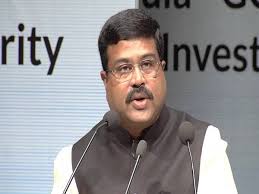 Hyderabad: "The hike in fuel prices will be passed on to the consumer. Fuel prices will rise by nearly six rupees per litre", said Minister of Petroleum & Natural Gas. Interacting with Mr. Zafar Javeed, India Coordinator of the Islamic Development Bank who is also the Secretary of the Sultan ul Uloom Education Society (SUES) at the society's office boardroom in Hyderabad.
Mr. Zafar Javeed insisted that petroleum be brought under the purview of GST to keep a tab on the superfluous rise in fuel charges. The minister, however, said the states will not agree to it."
Meanwhile, Union Minister of India Mr. Dharmendra Pradhan said, "The Islamic countries are neither against nor have protested the Jammu and Kashmir situation in India after the abrogation of article 370, said Union Minister of India Mr. Dharmendra Pradhan.
While interacting with Mr. Zafar Javeed, the minister said: "These countries realize that Kashmir is an internal issue to India and we are capable of dealing with the issue ingeniously."
Mr. Pradhan who has recently visited the gulf said "in Muslim countries, only Pakistan tried to politicize the issue. Saudi, UAE and Qatar didn't raise the Kashmir issue", he added.
Mr. Zafar Javeed said, "Indians are not bothered if Kashmir is an issue with Muslim countries or with Pakistan, they want peace in Kashmir."
He said that the Jammu and Kashmir were being singularly targeted by the central government. The minister said "There were no political rights to people in Jammu and Kashmir and now they have civil liberty, transportation, communication, and everything. The situation is peaceful in Kashmir", he said adding that "Nagaland, Assam, Manipur, Mizoram are covered under article 371 which is permanent unlike article 370 which had temporary provisions".
Questioning the minister Zafer Javeed said how did people have no political rights when BJP had a coalition government in Jammu and Kashmir, the minister said "the BJP was in minority at that time".
Mr. Zafar Javeed said "The people of Kashmir are suffering due to indefinite curfew in the valley, where a shortage of food, medical supplies have crippled life. He said the 45 days of curfew is unprecedented and has tarnished the image of India internationally. He questioned the central government's claims of normalcy in Kashmir and said: "it's not just political but a major human rights conundrum for the people of Kashmir."
The Union Minister clarified that "14 police stations in the area have section 144 and not curfew" while adding that "there's absolute freedom and no human rights issue in Jammu and Kashmir."
Subscribe us on