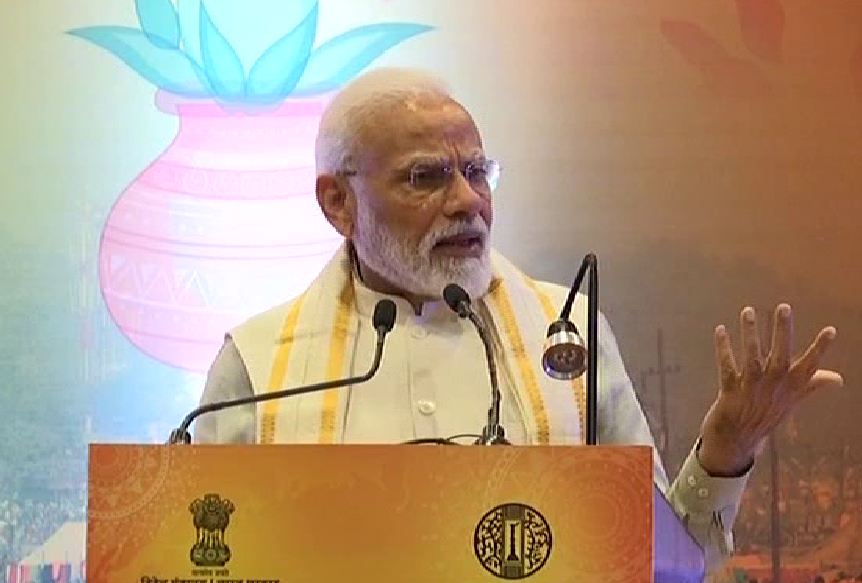 Tonk (Rajasthan): Prime Minister Narendra Modi on Saturday denounced the attacks on Kashmiris in the wake of the Pulwama attack, saying such things should not happen in the country.
"Our fight is for Kashmir, not against Kashmiris," he said in his first response to the attacks on Kashmiris, mostly businessmen and students, in wake of the February 14 terror strike when a Jaish-e-Mohammad operative rammed an explosive-laden SUV into a Central Reserve Police Force convoy on the Jammu-Srinagar highway, killing 40 CRPF men on the spot.
Addressing the Vijay Sankalp Sabha in this Rajasthan town, Modi said: "We want our sisters and brothers of Kashmir to be rid of terrorism."
"Kashmiris have suffered the most due to terrorism, and the rest of the country must stand in their support. Our fight is against those who sponsor terrorism," he said.
The Prime Minister cited the Amarnath Yatra to emphasise how Kashmiri youths look after Hindu pilgrims.
Former Jammu and Kashmir Chief Minister Omar Abdullah welcomed Modi's remarks and hoped the "forces targeting Kashmiris will stop in their tracks". Abdullah as well another former Chief Minister Mehbooba Mufti had been criticising the Prime Minister for his silence on the attacks on Kashmiris.
In his rally, Modi also announced that Indian forces have been given a free hand to hit back and that "we shall never sit quietly as we are well aware of techniques to kill terrorism".
He said that peace cannot prevail in the world till the "factory of terror" In Pakistan continues running.
"Now, if it is my destiny to end this factory, so let it be. This stands over and above party politics," he said, adding that soon after the Pulwama attack, everyone has seen how his government are giving it back to Pakistan which "is facing a tough time ahead".
"We shall not bear the pain and remain quiet but will give it back. This is the new India," he added.
He also said the time has come to test if Pakistan Prime Minister Imran Khan is a man of his word.
"I did call Pakistan's new Prime Minister to congratulate him after his win, following the basic protocol. I told him that we should join hands to eradicate poverty and to fight illiteracy. Answering this, Khan said that he's a Pathan's child and hence he never lies."
Modi also hit out at those showing a soft corner for Pakistan.
"It upsets me that many people stay in India but speak the language of Pakistan.
"These are the same people who went to Pakistan and said 'Do whatever you want, but remove Modi from power'. These are also the same people who failed to retaliate against the terror attack reported in Mumbai," he alleged.
Pakistan has 'sincerely offered' investigation into Pulwama, says its ruling party
Pakistan has "sincerely offered" probe into the Pulwama "incident" and based on the investigation or "any tangible evidence" provided, Pakistan "shall take action against anyone found using our soil," the ruling party headed by Prime Minister Imran Khan said on Thursday.
Pakistan Tehreek-e-Insaf (PTI) said Khan, on Thursday, chaired a meeting of the National Security Committee which discussed "geo strategic and national security environment and situation arising after the Pulwama incident."
"The forum (NSC) noted that the State of Pakistan is not involved in any way, means or form in the said incident," the ruling party tweeted about the ghastly terror attack which Islamabad has not even condemned.
"In this regard, Pakistan has sincerely offered investigation of the incident as well as the offer of dialogue on the issue of terrorism among other disputed issues. We expect India to positively respond to the offers," it added.
India has already pointed out that the February 14 attack, in which 40 CRPF personnel were killed, was claimed by Jaish-e-Mohammad (JeM) terror outfit which is based in Pakistan and wondered what "more proof" Islamabad needs.
Referring to the NSC meeting, the PTI party tweeted, "The Prime Minister (Imran Khan) said that this is a new Pakistan and we are determined to demonstrate to our people that the State is capable of protecting them and believes that monopoly of violence stays with State."
Contending that this will not come with commitment alone, it said, "We recognize that terrorism and extremism are the top issues in the region and the whole region including Pakistan have suffered."
It added, "Having addressed direct threat to State of Pakistan, we need to move to ensure that militancy and extremism are routed from the society and the State never becomes hostage to extremists. In this regard, the Prime Minister directed both the interior ministry and the security institutions to immediately accelerate actions on ground."
At the same time, the party said, "the Prime Minister authorized Armed Forces of Pakistan to respond decisively and comprehensively to any aggression or misadventure by India."
With inputs from IANS/ANI
Subscribe us on