Hyderabad: Due to incessant rains in the city in the past three to four days, some of the roads got damaged and new potholes formed and they would be repaired in a couple of days once the rains recede, said the GHMC Commissioner here today.
     Re-carpeting of damaged roads will be taken up after a week, he said, adding that daily about 50 to 60 tons of BT were needed to plug the potholes. He also said some 1.25 lakh houses were covered with fogging and spraying to control the seasonal diseases. Dengue cases were decreasing day after day as the GHMC was taking effective measures like fogging, spraying at vulnerable places which are prone to larva breeding and taking various awareness campaigns at local Bastis, Schools, and conduct of health camps in slums and at Basti Dawakhanas.
Till now, 1,043 Dengue cases were reported in the City. For the past couple of days, some 40 cases were being reported daily compared to 100 to 120 cases in the past.     Regarding dilapidated buildings, the GHMC was demolishing the identified buildings and this will be a continuous process, he said. From October 2, the GHMC will implement ban on single-use of plastic and special drive will be conducted. The GHMC was finding various options as to how to recycle the used plastic.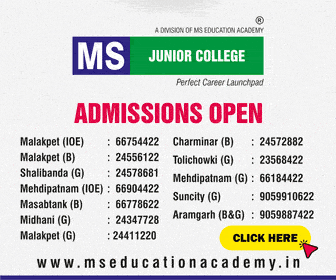 Regarding Dassera and Bathukamma festivals, the baby ponds are getting ready and steps were being taken to take the water to the nearest STP instead of letting it into lakes as it further pollutes. Regarding the financial position of the GHMC, he said there was no dearth of funds as they collected Property Tax Rs 200 crore more than the last year and the revenue from the Town Planning wing was also increasing by way of issuing building permissions.
NSS
Subscribe us on