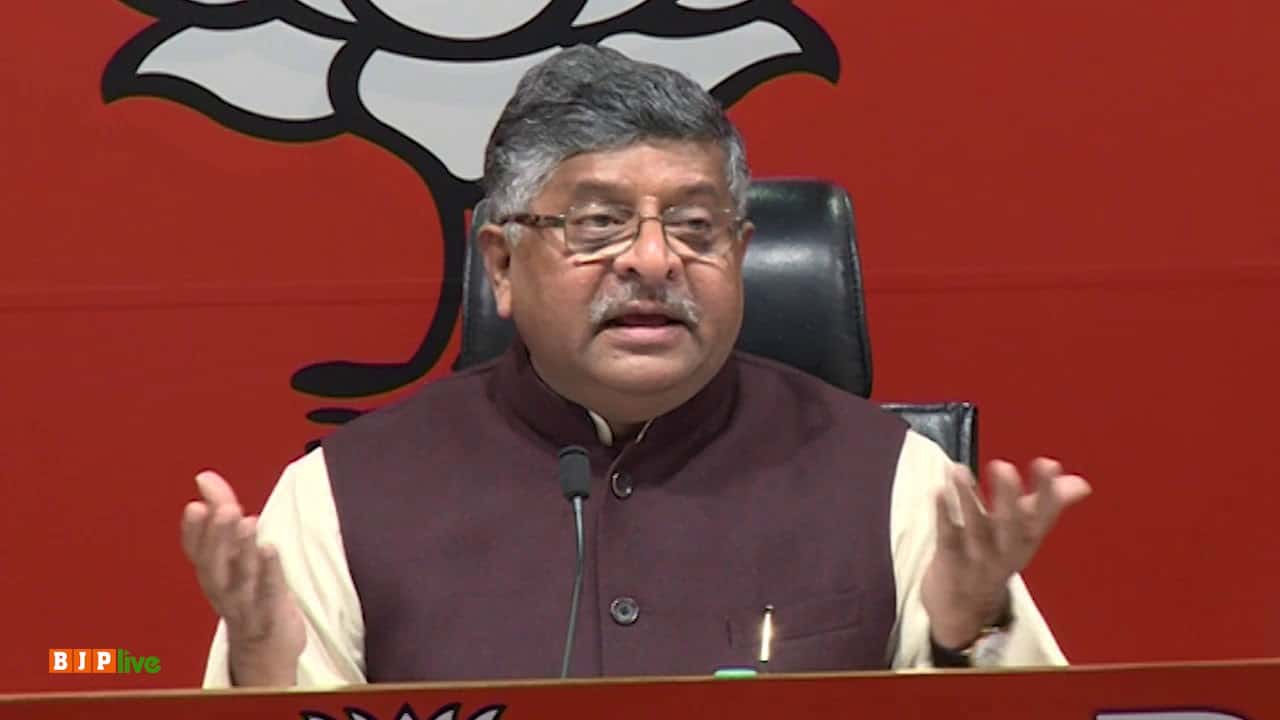 New Delhi: On a day when one alleged defence corruption case was put to rest by the Supreme Court that became the talking point of the 2019 general election, the ruling BJP resurrected another from the graveyard.
In a point-blank attack, Union Law Minister Ravi Shankar Prasad called the High Court judgement that absolved former Prime Minister Rajiv Gandhi in the Bofors scandal as "questionable".
"Dekhiye Rajiv Gandhi ab nahi rahe. Isi liye zyada nahi bolunga (Look, Rajiv Gandhi is no more. Hence, I won't speak at length on this)", stated Prasad.
He continued, "That was a highly questionable judgement of the Delhi High Court that wasn't allowed to be appealed against. You may recall that twice the Supreme Court sent the order of Delhi High Court back to HC. You know it very well."
In other words, the BJP on Thursday questioned the legal sanctity of Rajiv Gandhi being given a clean chit in the defence scandal that rocked the nation.
The Thursday media briefing by the BJP was peppered with mentions of "defence deal" signed during the Congress era including the Bofors scam.
Prasad intermittently said the party that has a legacy of being part of defence scams should not question the government. The Rafale deal was alleged to have involved corruption with then Congress chief Rahul Gandhi infamously claiming, "Chowkidar Chor Hai (Prime Minister is a thief)".
He even alleged certain media houses were unfairly favoured. While Dassault, the makers of the Rafale fighter jet all throughout rejected such claims as did French President Emmanuel Macron, it didn't cut much ice with the Congress which went to the election with Rafale as it's a lead issue.
Not only did the party face an embarrassing loss in the election but the Supreme Court too dismissed all allegations. On Thursday the apex court for the second time snubbed opposition allegations when it dismissed review petitions on the matter.
It was an aggressive pitch the BJP was batting on Thursday, backed by a judicial verdict in its favour.
While Prasad began the presser saying "Satyameva Jayate" (Let truth prevail), which is the slogan of the government of India, he also demanded an apology from Congress and Gandhi to the nation for the allegations.
But it was Prasad's resurrection of the Bofors ghost that will surely not go down well with the Congress in general and the Gandhi family in particular.
If politics is about setting the agenda for discourse, it was BJP 1, Congress 0 on Thursday.
Subscribe us on