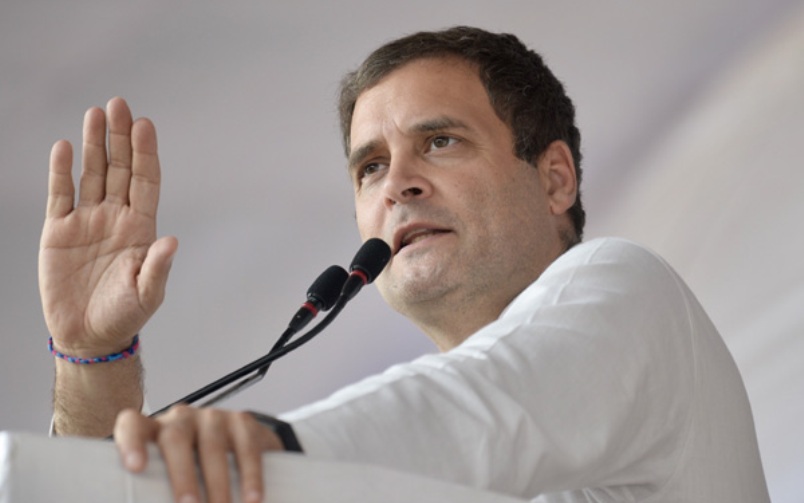 Itanagar: Congress president Rahul Gandhi on Tuesday reiterated his promise to introduce a new tax regime if his party is voted to power in the ensuing Lok Sabha polls, beginning April 11.
"If voted to power, we will introduce a new tax regime. There will not be five tax slabs. There will be one tax slab and the system will be simple," he said while accusing Prime Minister Narendra Modi of bringing in the GST, what Rahul termed as Gabbar Singh Tax (GST).
Rahul, who was addressing an election rally here, said: "Prime Minister Modi brought in the Gabbar Singh Tax, instead of GST (Goods and Services Tax). They have destroyed the business of small and medium enterprises by imposing GST on them.
The Congress president also reiterated his promise of giving minimum income to all poor people. "If we come to power, we will give guaranteed minimum income to every poor person. It will elevate the downtrodden. They will receive money directly into their accounts."
Rahul also ridiculed Prime Minister Modi for posing for a documentary at Jim Corbett National Park on February 14, the day which saw a deadly terror attack in south Kashmir's Pulwama district in which 40 CRPF jawans were killed, and many others were injured.
"I cancelled all my programmes as soon as I came to know about the deadly attack on our CRPF personnel," said Gandhi.
Taking a dig at Prime Minister Modi for prefixing 'Chowkidar' to his name on Twitter, he said: "Why is he making everyone to start his name with 'Chowkidar' on Twitter? He is the one who stole Rs 30,000 crore. He is doing so to distract the public attention as he has been caught."
Arunachal Pradesh, which has two Lok Sabha seats at stake, will go to polls on April 11. The seven-phase Lok Sabha elections for 543 seats will conclude on May 19. The counting of votes will take place on May 23.
[source_without_link]ANI[/source_without_link]
Subscribe us on