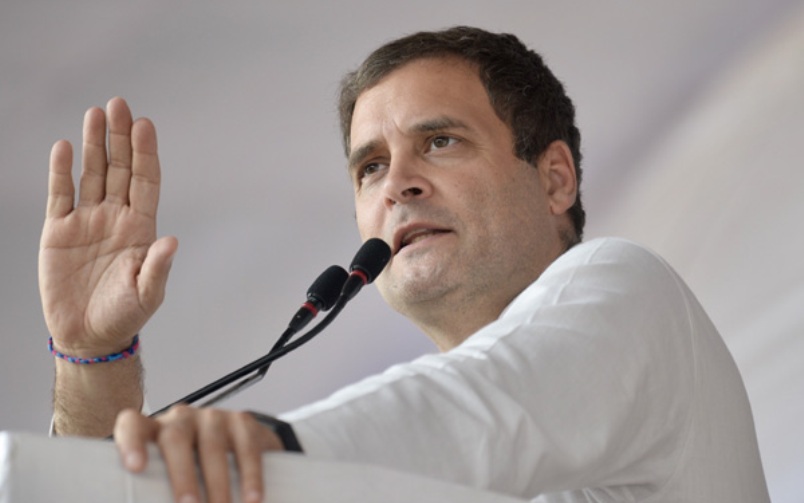 NEW DLEHI: A video of Congress President Rahul Gandhi rushed to the rescue of a photographer has now gone viral on the social media platforms.
The incident took place at Bhubaneswar airport when representatives from the media but a cameraman tumbled on a couple of steps and fell on his head.
The Congress president ran towards him and extended a helping hand. His kind gesture got warm messages on social media.
Take a look.
#WATCH Congress President Rahul Gandhi checks on a photographer who tripped and fell at Bhubaneswar Airport, Odisha. pic.twitter.com/EusYlzlRDn

— ANI (@ANI) January 25, 2019
[also_read url="https://www.siasat.com/news/road-2019-polls-rahul-hold-rallies-bhubaneswar-patna-raipur-1458819/"]Road to 2019 polls: Rahul to hold rallies in Bhubaneswar, Patna, Raipur[/also_read]
Users began comparing it with a 2013 video footage of Prime Minister Narendra Modi who continue giving a speech while security personnel falls on ground and fainted.
जमीन आसमान का फर्क है दोनो नेताओं में,

एक जो आपकी परवाह करता है और एक जो बुरे वक्त में आपको मरने छोड़ देता है…#RahulGandhiInOdisha pic.twitter.com/C6o8bvxlvA

— Srinivas B V (@srinivasiyc) January 25, 2019
When a policeman collapsed during Modi speech, Instead of helping him Modi continues his speech!!https://t.co/a8f0F0z6UU

— Jai Hind (@SayYesToPeaceOm) January 25, 2019
Subscribe us on